IDENTIFIKASI GRADE PADA BIBIT SAPI ACEH BETINA DI PUSAT PEMBIBITAN INDRAPURI
Abstract
Identifikasi grade pada bibit sapi berguna untuk mengelompokkan ternak berdasarkan performans tertentu untuk seleksi ternak. Penelitian ini bertujuan untuk mengetahui grade bibit sapi Aceh betina yang dipelihara di pusat pembibitan sapi Aceh di BPTU-HPT Sapi Aceh Indrapuri berdasarkan standar bibit sapi Aceh betina (SNI 7651.3.2013). Data rekording ternak dari tahun 2010 - 2013 terdiri dari tinggi gumba (TG), panjang badan (PB), lingkar dada (LD) dan berat badan (BB) dari 54 ekor sapi digunakan untuk analisis data dengan program SPSS 16.0. Rata-rata performans pada sapi Aceh betina umur 497,91+29,43 hari sebesar 87,44+4,87 cm (TG); 80,80+6,19 cm (PB); 101,29+10,40 cm (LD) dan 86,20+18,77 kg (BB). Sebanyak 26 ekor sapi (48,14%) telah memenuhi syarat SNI dan terdiri dari grade I (6 ekor/23,07%), grade II (8 ekor/30,77%) dan grade  III (12 ekor/46,15%). Hasil penelitian menunjukkan bahwa rata-rata berat badan pada semua bibit sapi yang teregister (sesuai SNI) lebih tinggi (97,67+16,67 kg) dibandingkan dengan sapi yang tidak teregister (75,55+13,80 kg).
Keywords
Sapi Aceh; Performans; Bibit; SNI; Grade
References
Abdullah, M.A.N., R.R. Noor, H. Martojo, D.D. Solihin dan E. Hendiwirawan. 2006. Keragaman fenotipik sapi Aceh di Nanggroe Aceh Darussalam. J. Indon. Trop. Anim. Agric. 32(1): 11-21
Adrial. 2010. Potensi sapi Pesisir dan upaya pengembangannya di Sumatera Barat. Jurnal Litbang Pertanian. 29(2): 66-72
Bakhtiar. 2010. Performans reproduksi dan produksi sapi Aceh. Tesis. Program Pascasarjana.Universitas Andalas. Padang.
Fitri, C.A. 1991. Perbandingan Karkas Dari Spesies Sapi. http://www.poliven.ac.id. 14 November 2016
Hartati, Sumadi, dan T. Hartatik. 2009. Identifikasi karakteristik genetik sapi Peranakan Ongole di peternakan rakyat. Buletin Peternakan. 33(2): 64-73
Ishak, A.B.L., A. Nurhayu, A. Ella, M. Sariubang dan T. Rahmawati. 2014. Seleksi performans induk sapi Bali sebagai upaya pembentukan populasi dasar pada program pembibitan dan pemurnian sapi Bali di Kabupaten Barru Provinsi Sulawesi Selatan. Prosiding Seminar Nasional Peternakan. Makassar. Hal 59-65
Kementerian Pertanian. 2016. Sub-Sektor Peternakan. http://www.pertanian.go.id. 14 November 2016
Latulumamina, M. 2013. Korelasi antara umur dan berat badan sapi Bali (Bos sondaicus) di Pulau Seram. Agrinimal. 3(1): 35-40
Nahar, S., A.F.M.F. Islam, M.A. Haque and A.K.F.H. Bhuiyan. 2016. Animal performance of indigenous Red Chittagong cattle in Bangladesh. Acta Scientiarum. 38(2): 177-182
Tonbesi, T.T., N. Ngadiono dan Sumadi. 2009. Estimasi dan potensi kinerja sapi Bali di Kabupaten Timor Tengah Utara, Provinsi Nusa Tenggara Timur. Buletin Peternakan. 33(1): 30-39
UGM. 2014. Road Map Pengembangan Industri Sapi Potong di Indonesia. http://www.fapet.ugm.ac.id. 14 November 2016
Setiadi, B. dan K. Diwyanto. 1997. Karakterisasi morfologis sapi Madura. JITV. 2(4): 218- 224
Soekardono, C. Arman dan L.M. Kasip. 2009. Identifikasi grade sapi Bali betina bibit dan koefisien reproduksi sapi betina di Propinsi Nusa Tenggara Barat. Buletin Peternakan. 33(2): 74-80
Supiyono. 1998. Ilmu Tilik Ternak. Fakultas Peternakan. Universitas Gadjah Mada, Yogyakarta.
DOI:
http://dx.doi.org/10.24014/jupet.v15i1.4076
Refbacks
There are currently no refbacks.
Jurnal Peternakan 
has been accredited by Sinta 3 : Number 158/E/KPT/2021
Starting from Vol. 18 No. 1 Year 2021 to Vol. 22 No. 2 Year 2025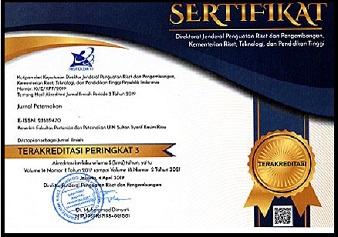 Jurnal Peternakan Indexed By:
Creation is distributed under the 
Creative Commons Attribution 4.0 International License
.
View Mystats