KUALITAS NUTRISI SILASE LIMBAH PISANG (BATANG DAN BONGGOL) DAN LEVEL MOLASES YANG BERBEDA SEBAGAI PAKAN ALTERNATIF TERNAK RUMINANSIA
Abstract
Stem and stump of bananas have potential to be used as an alternative for ruminant feed. However, one of the problem is its rapidly decomposing which affect high of water content. The alternative way to solve this matter by using silage. The aim of this study was to determine the nutritional quality of banana waste silage (stems and stump) with the addition of molasses with different levels. The experimental design was a Completely Randomized Design in factorial 3 × 3 with two replications. The first factor (A) was the composition of the substrate, A1: stump 100% + stem 0%, A2: stump 50% + stem 50%, and A3: stump 0% + stem 100%, while the second factor (B) was the levels of molasses (0; 2.5; and 5%). The parameters measured were dry matter, crude protein, crude fiber, extract ether, ash and BETN. The results showed that the composition of the substrate has significant effect (P<0.05) increased content of dry matter, crude protein, crude fiber, BETN, but did not significant (P>0.05) on extract ether and ash content. There was an interaction (P<0.05) between the substrate composition and the addition of molasses on the content of the ash. The best composition for increasing the nutrient content was stump 100% + stemps 0%. It is conclude that the compostion of stump and stemps may affect the nutrient quality of silage.
Keywords
by product, fermentation, crude protein, crude fiber
DOI:
http://dx.doi.org/10.24014/jupet.v13i2.2417
Refbacks
There are currently no refbacks.
Jurnal Peternakan 
has been accredited by Sinta 3 : Number 158/E/KPT/2021
Starting from Vol. 18 No. 1 Year 2021 to Vol. 22 No. 2 Year 2025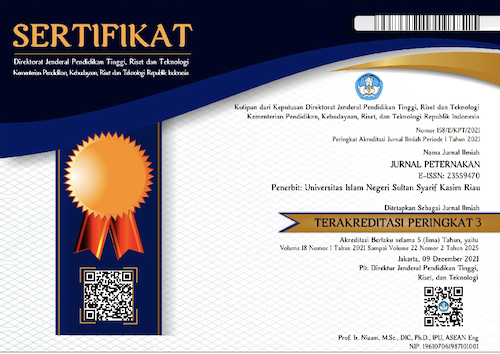 Jurnal Peternakan Indexed By:

Creation is distributed under the 
Creative Commons Attribution 4.0 International License
. 
View Mystats