An-Nida' is a journal published by Institut for Research and Community Services (LPPM) of Universitas Islam Negeri Sultan Syarif Kasim Riau. An-Nida' was first published in 1980, managed by the Center for Research and Community Services (P3M) IAIN Susqa Pekanbaru. An-Nida' is an open-access journal, published twice a year, in June and December.
Please read the writing guidelines carefully. Authors who wish to submit articles to An-Nida' journal must adhere to the writing guidelines. If the submitted article does not comply with the writing format, it will be REJECTED by the editors. The editors will only accept articles that comply with the format.
Articles accepted in this journal will be reviewed by two reviewers (double-blind reviewers). If one reviewer rejects the article, the editors will appoint a third reviewer. The decision to accept or reject an article is based on a meeting of the editors, taking into account the notes made by the reviewers.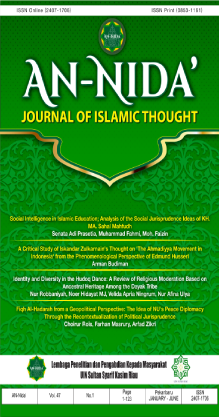 Announcements
No announcements have been published.
Vol 46, No 2 (2022): Juli - Desember
Table of Contents
Articles