PENAMPILAN PRODUKSI KELINCI PERIODE PERTUMBUHAN YANG DIBERI PAKAN WAFER LIMBAH DAUN UBI JALAR (IPOMEA BATATAS) DENGAN PENAMBAHAN BERBAGAI LEVEL MOLASES
Abstract
The aim of this research is to determine of the wafer of performance of rabbits in the growth period given wafer sweet potato leaves waste with various levels of molasses.  In The result showed that the treatment in this experiment had no significant effect (P>0.05) on feed consumption, average daily gain, feed conversion. The conclusion of this experiment is that giving molasses to complete ration wafers up to the level of 15 % in the rabbit unable to increase feed consumption (g/head/day), body weight (g/head/day) and  feed conversion
Keywords
Molases; performance; rabbit; sweet potato leaves; wafers
References
DAFTAR PUSTAKA
Badan Pusat Statistik Provinsi Riau. 2016. Produksi Tanaman Pangan Menurut Jenis Tanaman Tahun2011-2015. Badan Pusat Statistik. Pekanbaru.
Basuki, P. 2002. Dasar Ilmu Ternak Potong dan Kerja. Bahan Ajar.Fakultas Peternakan Universitas Gadjah Mada. Yogyakarta.
Khalil, M.N. 2016. Sehat Tanpa Obat dengan Ubi Jalar.Cetakan pertama. Andipublished. ISBN 978-979-29-5276-6. Jakarta.
Mujiasih. 2002. Performa Ayam Broiler yang diberi Antibiotik Zine bacitracin, dan Probiotik Bacillus sp dan Berbagai Level Saccharomyces cereviseae dalam Ransumnya. Skripsi. Fakultas Peternakan. Institut Pertanian Bogor. Bogor.
Mulyono, A.M.W. 2009. Nilai Nutritif Onggok Terfermentasi Mutan Trichoderma AAI pada Ayam Broiler. Media Kedokteran Hewan. Fakultas Pertanian Universitas Veteran Bangun Nusantara. Yogyakarta.
Noviagama, V.R. 2002. Penggunaan Tepung Gaplek sebagai Bahan Alternatif dalam Pembuatan Ransum Komplit. Skripsi. Fakultas Peternakan. Institut Pertanian Bogor. Bogor.
NRC. 1997. Nutrient Requirementsof Rabbits. National Academy of Sciences. Washington D.C.
Parakkasi, A. 1999. Ilmu Nutrisi dan Makanan Ternak Ruminan. Universitas Indonesia-Press, Jakarta.
Rasyid, H. 2009. Performa Produksi Kelinci Lokal Jantan padaPemberian Rumput Lapang dan Berbagai Level Ampas Tahu. Skripsi. Fakultas Peternakan. Institut Pertanian Bogor. Bogor.
Retnani, Y.S. Basymeleh dan L. Herawati. 2009. Pengaruh Jenis Hijauan Pakan dan Lama Penyimpanan terhadap Sifat Fisik Wafer. Jurnal Ilmiah Ilmu-Ilmu Peternakan.12(4):13- 18.
Rizqiani, A. 2011. Performa Kelinci Potong Jantan Lokal Peranakan New Zealand White yang diberi Pakan Silase atau Ransum Komplit. Departemen Ilmu Nutrisi dan Teknologi Pakan. Fakultas Peternakan. Institut Pertanian Bogor. Bogor.
Sarwono, B. dan H.B. Arianto. 2007. Penggemukakan Sapi Potong Secara Cepat Penebar Swadaya. Jakarta.
Tillman, A.D., H. Hartadi, dan S. Reksohadiprodjo. 1991. Tabel Komposisi Pakan untuk Indonesia. Gadjah Mada University Press, Yogyakarta.
Tulung, B, J.F. Umboh dan B.S. Meysi, 2018. Pengaruh Pemanfaatan Daun Ubi Jalar (Ipomoea batatas L) terhadap Performans Ternak Kelinci. Jurnal Zootec. 38(2): 314-319.
Wahju,J. 2004. Ilmu Nutrisi Unggas. Universitas Gajah Mada Press. Yogyakarta.
Wicaksono,P.N. 2007.Pengaruh Campuran Isi Rumen dan Daun Wortel Kering sebagai Pengganti Wheat Pollard terhadap Penampilan Produksi Kelinci New Zealand White.UniversitasBrawijaya.
Wuysang, S., C. Rahasia, J. Umboh, Y. L. R. Tulung. 2017. Pengaruh Penggunaan Molases sebagai Sumber Energi Pakan Penguat dalam Ransum terhadap Pertumbuhan Ternak Kelinci. Jurnal Zootek 37(1): 149-155.
Yusmadi, Nahrowi danM.Ridla 2008. Kajian Mutu Silase dan Hay Ransum Komplit Berbasis Sampah Organik Primer pada Kambing Peranakan Etawah. Agripet 8(1): 31-38.
Yudith, T.A. 2010. Pemanfaatan Pelepah Sawit dan Hasil Ikutan Industri Kelapa Sawit terhadap Pertumbuhan Sapi Peranakan Simmental Fase Pertumbuhan. Skripsi. Fakultas Pertanian Universitas Sumatera Utara. Medan.
DOI:
http://dx.doi.org/10.24014/jupet.v16i2.7228
Refbacks
There are currently no refbacks.
Jurnal Peternakan 
has been accredited by Sinta 3 : Number 158/E/KPT/2021
Starting from Vol. 18 No. 1 Year 2021 to Vol. 22 No. 2 Year 2025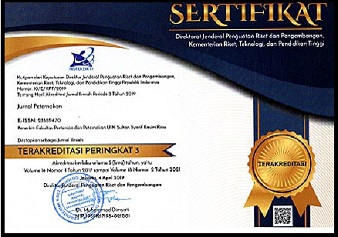 Jurnal Peternakan Indexed By:
Creation is distributed under the 
Creative Commons Attribution 4.0 International License
.
View Mystats