Kemampuan Reproduksi Induk dan Pertumbuhan Anak Kambing Peranakan Etawah, Gembrong, dan Kosta
Abstract
Indonesia has various types of local goat germplasm like a goat Peranakan Etawah (PE), Gembrong, and Kosta. Information of those local goats including the parent reproduction and kids productivity are still limited. Study aims to evaluate maternal reproduction capability and kids productivity of goat PE, Gembrong, and Kosta. Study was conducted in 24 does and 44 kids of PE, Gembrong, and Kosta in Loka Kambing Potong (Goat Research Station), Sumatera Utara. A goat mated with of the study from each the goat breed. Data of reproduction were collected from mating to calving. Data of kids productivity were collected from birth to nine month-old. As reproductive capability data, the highest litter size and type of birth were demonstrated in goat PE.  Goat gembrong produced more male, whereas goat Kosta had shorter pregnant duration than other goats. Birth weight of PE was significantly different (p<0,05)  to Gembrong and Kosta. Weaning weight was different (p<0,05) between PE and Kosta goat. In addition, daily gain of 6-months, 9-months weight, pre-weaning and postweaning showed no significant differences (P>0.05). Pre-weaning and post-weaning mortality was highest in Kosta.
Keywords
Goat, peranakan etawah, gembrong, kosta, productivity
References
Aka, R. 2012. Pertumbuhan cempe Peranakan Etawah pascasapih pada pola pemeliharaan sistem kandang kelompok dan kandang individu. Agriplus. 22(2): 96–100.
Ali ,N., N. Munawarah, & N. Sofyan. 2017. Pengaruh pemberian ampas tahu terhadap produksi air susu dan pertambahan berat badan kambing Peranakan Etawa (PE). Jurnal SAINTEK Peternakan dan Perikanan. 1(1): 23-26.
Bandiati, S, and K Prajoga. 2007. "Pengaruh Silang Dalam pada Estimasi Respon Seleksi Bobot Sapih Kambing Peranakan Etawa ( PE ), dalam Populasi Terbatas." Jurnal IlmuTernak. 7 (2): 170–78.
Batubara, A, M Doloksaribu, and B Tiesnamurti. 2014. "Potensi Keragaman Sumberdaya Genetik." Prosiding Lokakarya Nasional Pengelolaan dan Perlindungan Sumber Daya Genetik di Indonesia: Manfaat Ekonomi Untuk Mewujudkan Ketahanan Nasional, 206–14.
Demiral, Orkun, M Ün, M Abay, and T Bekyürek. 2007. "The Effect of Artificial Insemination Timing on the Sex Ratio of Offspring and Fertility in Dairy Cows." Turkish Journal of Veterinary and Animal Sciences 31 (1): 21–24.
Ginting, S P, and F Mahmilia. 2008. "Kambing ' Boerka ': Kambing Tipe Pedaging Hasil Persilangan Boer X Kacang." Wartazoa 18 (3): 115–26.
Haldar, A, P Prasenjit , M Datta, R Paul, S K Pal, D Majumdar, C K Biswas, and S Pan. 2014. "Prolificacy and Its Relationship with Age, Body Weight, Parity, Previous Litter Size and Body Linear Type Traits in Meat-Type Goats." Asian-Australasian Journal of Animal Sciences 27 (5): 628–34.
Hermesch, S, B G Luxford, and H-U Graser. 2000. "Genetic Parameters for Lean Meat Yield , Meat Quality , Reproduction and Feed Efficiency Traits for Australian Pigs 2 . Genetic Relationships between Production , Carcase and Meat Quality Traits." Livestock Production Science 65: 249–59.
Kaunang, D, Suyadi, and S Wahjuningsih. 2014. "Analisis Litter Size , Bobot Lahir dan Bobot Sapih Hasil Perkawinan Kawin Alami dan Inseminasi Buatan Kambing Boer dan Peranakan Etawah (PE)." Jurnal Ilmu-Ilmu Peternakan 23 (3): 41–46.
Kostaman, T, and I-K Sutama. 2005. "Laju Pertumbuhan Kambing Anak Hasil Persilangan antara Kambing Boer dengan Peranakan Etawah pada Periode Pra-Sapih." Jurnal Ilmu Ternak dan Veteriner 10 (2): 106–12.
Kostaman, T, and I K Sutama. 2006. "Korelasi Bobot Badan Induk dengan Lama Bunting, Litter Size , dan Bobot Lahir Anak Kambing Peranakan Etawah." Prosiding Seminar Nasional Teknologi Peternakan dan Veteriner, 522–27.
Kosum, N, T Taskin, Y Akbas, and M Kaymakci. 2004. "Heritability Estimates of Birth and Weaning Weights in Saanen, Bornova and Saanen x Kills Goats." Pakistan Journal of Biological Science 7 (11): 1963–66.
Mahmalia, F, M Doloksaribu, and S Nasution. 2010. "Pengaruh Faktor Non Genetik terhadap Bobot Lahir Kambing Boer pada Stasiun Percobaan Loka Penelitian Kambing Potong Sei Putih." Prosiding Seminar Nasional Teknologi Peternakan dan Veteriner, 477–81.
Mahmalia, F, S P Ginting, A Batubara, M Doloksaribu, and A Tarigan. 2004. "Karakteristik Morphologi dan Performans Kambing Gembrong dan Kosta." Prosiding seminar Nasional Teknologi Peternakan dan Veteriner, 375–80.
Mavrogenis, A P, A Constantinou, A Louca, A P Mavrogenis, and A Constantinou. 1984. "Production : Environmental and Genetic Causes of Variation in Production Traits of Damascus Goats . 1 . Pre-Weaning and Post-Weaning". Animal Production. 38 : 91–97.
Nasich, M. 2011. "Produktivitas Kambing Hasil Persilangan antara Pejantan Boer dengan Induk Lokal (PE) Periode Prasapih." Jurnal Ternak Tropika 12 (1): 56–62.
Nasution, S., F. Mahmilia, & M. Doloksaribu . 2010. Pengaruh Musim terhadap Pertumbuhan Kambing Kacang Prasapih di Stasiun Percobaan Loka Penelitian Kambing Potong Sei Putih. Seminar Nasional Teknologi Peternakan dan Veteriner 2010: 621-625.
Nurgiartiningsih, V M A 2011. "Evaluasi Genetik Pejantan Boer Berdasarkan Performans Hasil Persilangannya dengan Kambing Lokal." Jurnal Ternak Tropika 12(1): 82–88,.
Pamungkas, F A. 2008. "Pertumbuhan Anak Kambing Kosta Selama Periode Prasapih pada Induk yang Berumur Lebih dari 4 Tahun." Prosiding Seminar Nasional Teknologi Peternakan dan Veteriner, 378–82.
Prasojo, G, I Arifiantini, and K Mohamad. 2010. "Korelasi antara Lama Kebuntingan, Bobot Lahir dan Jenis Kelamin Pedet Hasil Inseminasi Buatan pada Sapi Bali." Veteriner 11 (1): 41–45.
Putri, T I, and M Dewantari. 2017. "Peningkatan Produktivitas Kambing Gembrong yang Terancam Punah Melalui Suplementasi Multi Vitamin-Mineral dalam Ransum Berbasis Hijauan Lokal." Majalah Ilmiah Peternakan 20 (2): 64–67
Rasminati, N. 2013. "Grade Kambing Peranakan Ettawa pada Kondisi Wilayah yang Berbeda." Sains Peternakan 11 (1): 43–48.
Rusdiana, S, and E Sutedi. 2016. "Analisis Ekonomi Usaha Tanaman Pangan dan Kambing Kosta di Kecamatan Carita Kabupaten Pandeglang, Banten." Buletin Peternakan 40 (3): 228–36.
Setiadi, B, I-K . Sutama, and I G M Budiarsana. 1997. "Efisiensi Reproduksi dan Produksi Kambing Peranakan Etawah pada Berbagai Tatalaksana Perkawinan." Jurnal Ilmu Ternak dan Veteriner 2(4) No.: 233–36.
Snyman, M A, J J Olivier, G J Erasmus, and J B Van Wyk. 1997. "Genetic Parameter Estimates for Total Weight of Lamb Weaned in Afrino and Merino Sheep." Livestock Production Science 48: 0–5.
Sulastri, Sumadi, T Hartatik, and N Ngadiyono. 2014. "Performans Pertumbuhan Kambing Boerawa di Village Breeding Centre , Desa Dadapan , Kecamatan Sumberejo , Kabupaten Tanggamus , Provinsi Lampung." Sains Peternakan 12 (1): 1–9.
Sumardianto, T A P, E Purbowati, and Masykuri. 2013. "Karakteristik Karkas Kambing Kacang, Kambing Peranakan Ettawa, dan Kambing Kejobong Jantan pada Umur Satu Tahun." Journal Animal Agriculture 2 (1): 175–82.
Sutama, I-K. 2011. "Inovasi Teknologi Reproduksi Mendukung Pengembangan Kambing Perah Lokal." Pengembangan Inovasi Pertanian 4(3) : 231–46.
Sutama, I-K, I.G.M Budiarsana, I.W Mathius, and E Juarini. 1999. "Pertumbuhan dan Perkembangan Seksual Anak Kambing Peranakan Etawah dari Induk dengan Tingkat Produksi Susu yang Berbeda." Jurnal Ilmu Ternak dan Veteriner 4(2) : 95–100.
Suyasa, N, P Ida, and E Siti. 2016. "Potensi dan Keragaman Karakter Kambing Kacang , Peranakan Ettawa ( PE ) dan Gembrong di Bali." Prosiding Seminar Nasional Inovasi Teknologi Pertanian, 1359–66.
Yulistiani, D, I-W. Mathius, I-K. Sutama, U Adiati, R S G. Sianturi, Hastono, and I. G. M. Budiarsana. 1999. "Respon Produksi Kambing PE Induk Sebagai Akibat Perbaikan Pemberian Pakan pada Fase Bunting Tua dan Laktasi." Jurnal Ilmu Ternak dan Veteriner 4(2) : 88–95.
Yunanda, Sulastri, and M Hamdani. 2013. "Seleksi Induk Kambing Peranakan Etawah Berdasarkan Nilai Most Probable Producing Ability Bobot Sapih di Kelompok Tani Margarini." Jurnal Ilmiah Peternakan Terpadu 1(3): 22–25.
DOI:
http://dx.doi.org/10.24014/jupet.v17i1.7692
Refbacks
There are currently no refbacks.
Jurnal Peternakan 
has been accredited by Sinta 3 : Number 158/E/KPT/2021
Starting from Vol. 18 No. 1 Year 2021 to Vol. 22 No. 2 Year 2025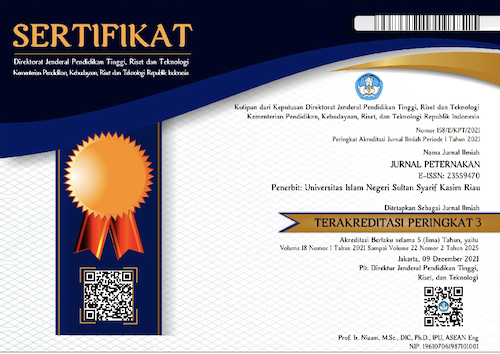 Jurnal Peternakan Indexed By:

Creation is distributed under the 
Creative Commons Attribution 4.0 International License
. 
View Mystats