Performa Pertumbuhan Broiler Pasca Penghentian Antibiotic Growth Promoters (AGP) dalam Pakan Ternak Pola Kemitraan di Kabupaten Jember
Abstract
This research was to know the growth performance of broilers and feed consumption effect, life weight, weight gain (PBB), Feed Convertion Ratio (FCR), mortality, and age of harvesting against Performance Index (IP) In Sukowono District, Jember Regency. The results of multiple linear regression analyses were obtained the following equation Y = 419.70 – 86,369X1 + 312,347X2 – 12,001X3 – 47,132X4 + 5,440X5 – 9,608X6. T-test result indicates feed consumption variable, life weight, and harvest age affect IP, while weight gain variables, FCR, and mortality do not affect the IP. F-test result indicates the probability value of all independent variables (X) jointly affects the dependent variable (Y), with a coefficient of determination (R2) value of 0,998. Broiler growth performance shows that the average feed consumption, live weight, weekly weight gain, and harvest age decrease, while feed convertion ratio and mortality rate increase.
Keywords
Broiler, feed, growth performance, performance index, feed convertion ratio
References
Anthony, T. 1997. Food Poisioning. Departemen of Biochemistry Colorado Estate University. New York.
Aksi Agraris Kanisius. 2003. Beternak Ayam Pedaging. Kanisius. Jakarta.
Ardana dan I.B. Komang. 2009. Ternak Broiler. Edisi I, Cetakan I. Swasta Nulus. Denpasar.
Ardilawanti, R. 2012. Analisis Faktor-faktor Yang Mempengaruhi Produksi Ayam Broiler Di Kecamatan Bantimurung Kabupaten Maros. Skripsi. Makassar: Universitas Hasanudiin. Asosiasi Obat Hewan Hewan Indonesia (ASOHI). 2001. Setengah Abad di Indonesia. Jakarta.
Bahri S, Masbulan E, dan Kusumaningsih A. 2005. Proses Praproduksi sebagai Faktor Penting dalam Menghasilkan Produk Ternak yang Aman untuk Manusia. Jurnal Litbang Pertanian 24(1):27-35.
Barton, M.D. 2000. Antibiotic Use in Animal Feed and Its Impact on Human Health. Nutr. Res.13:279-299.
Bell, D. D., dan Jr. W. D, Weaver. 2002. Commercial Chicken Meat and Egg Production. Springer Science and Business Media Inc. New York.
Cai, H.Y, and Y. Wang. 2010. Approach to Authorization of Novel Technologies on Alternatives to Antibiotic in China. IABSPresentation. China.
Cobb500. 2018. Broiler Performance & Nutrition Suplement. Cobb-vantress.com
Fadilah, R. 2007. Panduan Mengelola Peternakan Ayam Broiler Komersial. Agromedia Pustaka. Jakarta.
GPMT (Gabungan Perusahaan Makanan Ternak). 2017. Indonesian Feedmills Association.https://www.gpmt.or.id. [Diakses 01 Februari 2019].
Kompiang, IP. 2009. Pemanfaatan Mikroorganisma Sebagai Probiotik Untuk Meningkatkan Produksi Ternak Unggas Di Indonesia. Pengembangan inovasi pertanian (2) : 177-191.
Lacy, M. & L. R. Vest. 2000. Improving Feed Convertion in Broiler : A Guide for Growers. Springer Science and Business Media Inc, New York.
Lee, S. S., Chang Y. S. dan Noraswati Mohd. Nor Rashid. 2017. "Utilization of Macrofungsi by Some Indigenous Communities for Food and Medicine in Peninsular Malaysia". Sustainable Forest Management and Poverty Alleviation: Roles of Traditional Forest-Related Knowledge IUFRO World Series. Volume 21, Page : 94-97.
Lesson, S. 2000. Feed eficiency still a usefull measure of broiler performance. Departement animal and poultry science. University of guelp, ontario.
Magdalena. S, G.H. Natadiputri, F. Nailufar, dan T. Purwadaria. 2013. Pemanfaatan Produk Alami Sebagai Pakan Fungsional. Wartazoa 23(1):31-40.
Murwanto, A.G. 2008. Karakteristik Peternak dan Tingkat Masukan Teknologi Peternakan Sapi Potong di Lembah Prafi Kabupaten Manokwari. Jurnal Ilmu Peternakan, 3(1): 8–15.
National Research Council. 1994. Nutrient Requirements of Poultry 9th Resived Edition. National Academic Press, Washington, DC.
Rasyaf, M. 2011. Beternak Ayam Pedaging. Penebar Swadaya. Jakarta.
Santoso, U. 2002. Pengaruh tipe kandang dan pembatasan pakan di awal pertumbuhan terhadap performans dan penimbunan lemak pada ayam pedanging unsexed. JITV 7(2): 84-89.
Siregar, S. 2013. Metode Penelitian Kuantitatif. Prenadamedia Group. Jakarta.
Sugiyono. 2014. Metode Penelitian Pendidikan Pendekatan Kuantitatif, Kualitatif Dan R&D. Alfabeta. Bandung.
Tamalluddin, F. 2012. Ayam broiler, 22 hari panen lebih untung. Penebar Swadaya. Jakarta.
Undang-undang Republik Indonesia Nomor 41 tahun 2014 Tentang Peternakan dan Kesehatan Hewan. Jakarta.
Wasnaeni. Y, A. Iqbal, dan Ismoyowati. 2015. Broilers Farm's Behavior In Administering Antibiotic And Types Of Antibiotic Content In Comercian Feed. Animal production 17(1):62-68.
Wawan, A. dan Dewi, 2010, Teori dan Pengukuran Pengetahuan, Sikap dan Perilaku Manusia. Nuha Medika. Yogyakarta
Vidya. 2018. Penggunaan Metode " Rule Of Thumb Pricing" Untuk Memaksimumkan Laba Peternak Ayam Broiler Di Kecamatan Tumpang Kabupaten Malang. Jurnal Ilmiah Vol. 26(2) : 24-32.
Winendar, H., Listyawati .S, dan Sutarno. 2009. Daya cerna protein pakan, kandungan protein daging, dan pertambahan berat badan ayam broiler setelah pemberian pakan yang difermentasi dengan effective microorganisms- 4 (em-4). Bioteknologi 3(1): 14-19.
Wiryawan, K., M. Sriasih, & I. D. P. Winata. 2005. Penampilan ayam pedaging yang diberi probiotik (EM-4) sebagai pengganti antibiotik. Majalah Ilmiah Peternakan 8 (2): 1-10.
DOI:
http://dx.doi.org/10.24014/jupet.v17i1.7536
Refbacks
There are currently no refbacks.
Jurnal Peternakan 
has been accredited by Sinta 3 : Number 158/E/KPT/2021
Starting from Vol. 18 No. 1 Year 2021 to Vol. 22 No. 2 Year 2025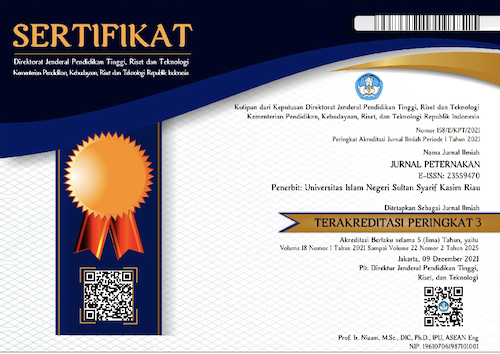 Jurnal Peternakan Indexed By:

Creation is distributed under the 
Creative Commons Attribution 4.0 International License
. 
View Mystats