Phenotypic Traits, Egg Productivity and Body Weight Performance of Gama Ayam BC1 Kamper
Abstract
Indonesia kini tengah menempati  peringkat 10 besar negara produsen daging dan telur unggas di dunia. Ayam ras pedaging tipe fast-growing Broiler dan ayam ras petelur tipe Layer Lohmann Brown-Classic merupakan dua galur ayam yang mendominasi sektor peternakan unggas di Indonesia. Potensi plasma nutfah ayam lokal asli Indonesia sebanyak 31 galur ayam belum dimanfaatkan secara optimal dalam usaha mewujudkan kemandirian peternakan unggas Indonesia. Hal ini berujung kepada ketergantungan Indonesia terhadap impor bibit ayam (grandparent stock, GPS) dalam kegiatan penyediaan bibit ayam. Gama Ayam Research Team telah memberdayakan potensi plasma nutfah ayam lokal asli Indonesia, salah satunya Pelung melalui program persilangan selektif. Hasilnya beberapa galur ayam potensial untuk dikembangkan diantaranya Kambro dan Kamper. Dalam penelitian ini program persilangan selektif galur ayam Kamper ditingkatkan melalui persilangan balik (backcross) antara ayam pejantan F1 Kamper (hibrida Pelung dan Layer Lohmann Brown-Classic) dengan ayam betina F1 Layer Lohmann Brown-Classic. Generasi BC1 (backcross I) diekspektasikan untuk mewarisi performa pertumbuhan ayam Pelung, produktivitas telur ayam Layer Lohmann Brown-Classic dan karakter fenotipe (postur tubuh dan warna bulu) ayam Kamper. Karakter fenotipe yang diamati dalam generasi BC1 Kamper digolongkan ke dalam enam kelas fenotipe. Bobot tubuh BC1 Kamper (n = 50) mencapai 538.84 g lebih tinggi dibandingkan F1 Kamper and Layer Lohmann Brown-Classic dalam sistem semi-intensive dengan diet pakan standar ad libitum dalam periode delapan minggu. Produktivitas telur BC1 Kamper mencapai 39.11 telur (periode 16-minggu) dan hen day production (HDP) sekitar 0.6-0.67. Telur BC1 Kamper diklasifikasikan sebagai round egg, AB dan spherical dengan nilai heritabilitas telur sekitar 0.2-0.244. Estimasi heritabilitas (h2 = low-moderate) menunjukkan kesamaan dengan F1 Kamper mengindikasikan proporsi distribusi alel antara generasi tetua dengan generasi indukan Layer Lohmann Brown-Classic dan F1 Kamper. 
Keywords
Ayam asli Indonesia, plasma nutfah, hen day production, Pelung, Layer Lohmann Brown-Classic
References
Ardo, T., H. T. S. S. G. Saragih, Trijoko, H. P. Soenarwan, S. Widianto, I. W. S. Mahardhika, & B. S. Daryono. 2019. Polymorphism of myostatin gene and its association with body weight traits in a hybrid of GAMA chicken (Gallus gallus domesticus Linn. 1758). Biodiversitas. 20: 3207-3212. https://doi.org/10.13057/ biodiv/d201113
Cheng, H. W. 2010. Breeding of tomorrow's chickens to improve well-being. Poult. Sci. 89: 805-813. https://doi.org/10.3382/
ps.2009-00361
Daryono, B. S., I. Roosdianto, & H. T. S. Saragih. 2010. Pewarisan karakter fenotip ayam hasil persilangan ayam pelung dengan ayam cemani. J. Veteriner. 11(4): 257-263. https://ojs.unud.ac.id/index.php/jvet/ article/view/3460
Das, S. C., S. D. Chowdhury, M. A. Khatun, M. Nishibori, N. Isobe, & Y. Yoshimura. 2008. Poultry production profile and expected future projection in Bangladesh. World's Poult. Sci. Assoc. 64: 99-118. https://doi. org/10.1017/S0043933907001754
Direktorat Jenderal Peternakan dan Kesehatan Hewan. 2017. Statistik Peternakan dan Kesehatan Hewan 2017 Livestock and Animal Health Statistics 2017. https:// ditjenpkh.pertanian.go.id/userfiles/ File/Buku_Statistik_2017_(ebook). pdf?time=150512744 3012. [accessed: April 29th 2019].
Direktorat Jenderal Peternakan dan Kesehatan Hewan. 2018. Statistik Peternakan dan Kesehatan Hewan 2018 Livestock and Animal Health Statistics 2018. [accessed: April 29th 2019]. http:// ditjenpkh.pertanian.go.id/userfiles/ File/Buku_Statistik_2018_(ebook). pdf?time=150512744 3012
Duman, M., A. Şekeroğlu, A. Yıldırım, H. Eleroğlu, & Ö. Camcı. 2016. Relation between egg shape index and egg quality characteristics. Europ. Poult.Sci. 80: 1-9. https://doi.org/10.1399/eps.2016.117
Elrod, S.L., & W.D. Stansfield. 2006. Genetics. Fourth Edition. McGraw-Hill Companies
Habibah, I., A. B. I. Perdamaian, I. Lesmana, Trijoko, I. W. S. Mahardhika, & B. S. Daryono. 2019. Genotyping of feather colors and detection of intron 4 Ctyr gene in Golden Kamper. Journal of Applied Poultry Research. unpublished data.
Hassan, K. Md., H. Md. Kabir, S. Sultana, AMd. Hossen, & M.M. Haq. 2016. Management and production performance of Cobb-500 broiler parent stock under open housing system. Asian Australas. J. Biosci. Biotechnol. 1(1): 66-72. https://www.bibliomed. org/?mno=237542
Henuk, Y. L., & D. Bakti. 2018. Benefits of Promoting Native Chickens for Sustainable Rural Poultry Development in Indonesia. Mohammad Basyuni, S. Hut., M.Si., Ph.D., Prof. Dr. Ir. Elisa Julianti, M.Si, editors. Conference Proceeding of Seminar Ilmiah Nasional Dies Natalis USU-64. Sumatera Utara (Indones): University of Sumatera Utara. p: 69-76.
Hidayat, C., & S. A. Asmarasari. 2015. Native chicken production in Indonesia: a review. Jurnal Peternakan Indonesia 17 (1): 1-11.
Ikegwu, T. M., V. T. Balogu, D. O. Balogu, S. I. Kolo, & J. Babatunde. 2016. Physical Properties of Hen's Egg. Journal of Foods, Natural and Life Sciences. 1: 16 – 23.
Iskandar, S. 2017. Petunjuk tenis produksi ayam lokal pedaging unggul (Program Perbibitan Tahun 2017). Edisi 2017. Pusat Penelitian dan Pengembangan Peternakan. Bogor. p: 1-43.
Kurnia, R. R. 2016. Estimasi Produktivitas Dan Nilai Heritabilitas Telur Ayam (Gallus gallus gallus, Linn. 1758) Hasil Persilangan Ayam ♀ Layer Dengan Ayam ♂ Pelung. Seminar. Fakultas Biologi. Universitas Gadjah Mada. Yogyakarta
Kushimoto, T., J. C. Valencia, Gertrude-E, Costin, K. Toyofuku, H. Watabe, K. Yasumoto, F. Rouzaud, W. D. Vieira, & V. J. Hearing. 2003. The Seiji memorial lecture: the melanosome: an ideal model to study cellular differentiation. Pigment Cell Res. 16: 237-244. https://doi.org/10.1034/ j.1600-0749.2003.00034.x
Lesmana, I. 2016. Asosiasi Polimorfisme Promoter Gen FSHR dengan Perkembangan Folikel Ovarium Ayam Hibrida Gallus gallus gallus (Linnaeus, 1758) Hasil Persilangan Betina Ras Petelur dengan Jantan Pelung. Thesis. Fakultas Biologi. Universitas Gadjah Mada. Yogyakarta.
Mahardhika, I. W. S., & B. S. Daryono. 2019. Phenotypic performance of Kambro crossbreeds of ♀ Broiler Cobb 500 and ♂ Pelung Blirik Hitam. Buletin Veteriner Udayana 11 (2): 188-202. https://doi. org/10.24843/bulvet.2019.v11.i02.p12
Mariandayani, H. N., D. D. Solihin, S. Sulandari, & C. Sumantri. 2013. Keragaman fenotipik dan pendugaan jarak genetik pada ayam lokal dan ayam broiler menggunakan analisis morfologi. J. Vet. 14(4): 475-484. https://ojs.unud.ac.id/index.php /jvet/ article/view/7683
Nataamijaya, A. G. 2010. Pengembangan potensi ayam lokal untuk menunjang peningkatan kesejahteraan petani. J. Litbang. Pertanian. 29(4): 131 133.
Nurfadillah, S., D. Rachmina, & N. Kusnadi. 2018. Impact of trade liberization on Indonesian broiler competitiveness. J. Indon. Trop. Anim. Agri. 43(4): 429437. https://doi. org/10.14710/jitaa.43.4.429-437.
Nurhuda, S. A. 2017. Pertumbuhan Generasi Ketiga Hasil Persilangan Ayam Lokal dengan Ayam Ras Pedaging sampai Umur 12 minggu. Tesis. Institut Pertanian Bogor. Bogor.
Oldenbroek, K., & L. van der Waaij. 2014. Textbook animal breeding: animal breeding and genetics for bsc students. Centre for Genetic Resources (Netherlands): The Netherlands and Animal Breeding and Genomics Centre.
Peraturan Menteri Pertanian Republik Indonesia Nomor 117/Permentan/SR.120/10/2014. http://perundangan.pertanian.go.id/ admin/p_mentan/Permentan%20 No.117%20Tahun%202014%20Galur% 20Hewan.pdf Diakses [08 Agustus 2019].
Pusat Data dan Sistem Informasi Pertanian. 2015. Outlook Komoditas Pertanian Sub Sektor Peternakan Daging Ayam. [accessed: April 29th 2019]. https://epublikasi. setjen.pertanian.go.id/ download/ file/213-outlook dagingayam-2015
Romanoff, A. L., & A. J. Romanoff. 1963. The Avian Egg 2nd ed. Jhon Wiley and Sons, Inc. New York. pp: 10
Semakula, J., P. Lusembo, D. R. Kugonza, D. Mutetikka, J. Ssennyonjo, & M. Mwesigwa. 2011. Estimation of live body weight using zoometrical measurements for improved marketing of indigenous chicken in the Lake Victoria basin of Uganda. Livestock Res. Rural. Dev. 23(8). http://www.lrrd.org/lrrd23/8/ sema23170.htm
Setiadi, B. 2016. Strategi pemenuhan syarat penetapan dan pelepasan rumpun atau galur baru ternak. Wartazoa. 26(3):133142. http://dx.doi.org/10.14334/ wartazoa.v26i3.1395
Setiawati, T., R. Afnan, & N. Ulupi. 2016. performa produksi dan kualitas telur ayam petelur pada sistem litter dan cage dengan suhu kandang berbeda. Jurnal Ilmu Produksi dan Teknologi Hasil Peternakan. 4(1): 197-203. https://doi.org/10.29244/ jipthp.4.1.197-203
Sogindor, B.A. 2017. Performa pertumbuhan hasil persilangan ayam lokal dengan ayam ras pedaging umur 1 sampai 12 minggu. Tesis. Institut Pertanian Bogor. Bogor.
Solikin, T., W. Tanwiriah, & I. Y. Asmara. 2016. Bobot akhir, bobot karkas, dan income over feed and chick cost ayam sentul Barokah Abadi Farm Ciamis. Stud. e-J. Fakultas Peternakan Universitas Padjadjaran. 5(4): 1-9.
Sudrajat, & A. Y. Isyanto. 2018. Keragaan peternakan ayam sentul di Kabupaten Ciamis. J. Pemikiran Masyarakat Ilmiah Berwawasan Agribisnis. 4(2): 237-253.https://media.neliti.com/ media/publications/259265-keragaanpeternakan-ayam-sentul-di-kabupf93cc468.pdf Suprijatna, E. 2010. Strategi pengembangan ayam lokal berbasis sumber daya lokal dan berwawasan lingkungan. Seminar Nasional Unggas Lokal ke IV. Sunarti D,
Suprijatna E, Mahfudz LD, Sarengat W, Karno, Nuswantara LK, Surono, Sarjana TA, penyunting. Bogor (Indones): Fakultas Peternakan Universitas Diponegoro. Pp. 55-88
DOI:
http://dx.doi.org/10.24014/jupet.v17i1.7331
Refbacks
Jurnal Peternakan 
has been accredited by Sinta 3 : Number 158/E/KPT/2021
Starting from Vol. 18 No. 1 Year 2021 to Vol. 22 No. 2 Year 2025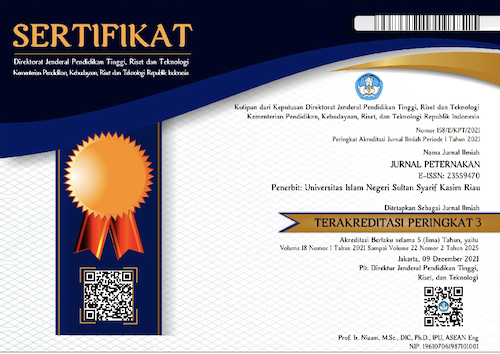 Jurnal Peternakan Indexed By:

Creation is distributed under the 
Creative Commons Attribution 4.0 International License
. 
View Mystats