RESPON AYAM BROILER TERHADAP KULIT PISANG BATU (Musa brachyarpa) FERMENTASI DALAM RAN SUM YANG MENGANDUNG PROBIOTIK STARBIO
Abstract
The aim ofthis research is to investigate the influence offermented banana waste (FBVV) utilization in broilerfeeding that could be enriched by starbio probiotic. Fermented FBW by Rhizopus oligosphorus was used in this study. Tests were carried out by mean of the complete randomized design (CRD) with 5 treatments and 4 repetitions. In addition, variation between the treatments was observed by applying Duncant Multiple Range Test. Five treatments for each feed composition were set to without FBW (A), 20% ofFBW+O,25% starbio probiotic (8), 30% ofFBW+0,25 % starbio probiotic (e), 40% of FBW+O,25% starbio probiotic (D) and 50% of FBW+0.25% starbio probiotic (E) respectively. Results showed that FBW utilization is having very significant influence to improving broiler performance such as body weight and feed consumption (P<O.Ol) but does not provide significant effect to feed conversion (P>0,05). Therefore, the fermented banana waste could be appropriately used up to 30% ofbroilerfeed.


Keywords
fermented banana waste, by Rhizopus oligosplwrus
DOI:
http://dx.doi.org/10.24014/jupet.v7i2.462
Refbacks
There are currently no refbacks.
Jurnal Peternakan 
has been accredited by Sinta 3 : Number 158/E/KPT/2021
Starting from Vol. 18 No. 1 Year 2021 to Vol. 22 No. 2 Year 2025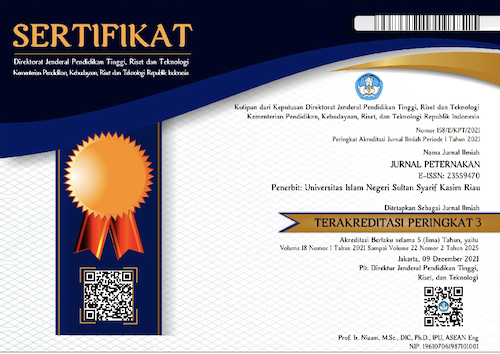 Jurnal Peternakan Indexed By:

Creation is distributed under the 
Creative Commons Attribution 4.0 International License
. 
View Mystats