POTENSI DAN STRATEGI PENGEMBANGAN KAWASAN PETERNAKAN RUMINANSIA DAN PEMANFAATAN LIMBAH TANAMAN PANGAN DI KABUPATEN MALUKU TENGGARA BARAT (MTB)
Abstract
The area development to be animal husbandry area should be directed in the increasing of natural resources using efficiency, and environment preservation. In this case, its development is done with use and manage natural resources in the form of land, livestock, and livestock woof, with other production factors in the form ofemployee and working capital. Local animal husbandry is genetic resources which have high potency to be used as prime seed forming source or other sources which are used to community necessity example meat production. West-South East Maluku Regency is the regency for livestock development in Maluku. A number ofruminant livestock populations in MTB regency are 40.215 ST, in detail, beef cattles are 5.392 ST, buffalo are 21.511 ST, goats are 11.376 ST, and sheeps are 1.936 ST. One offactors to determine animal husbandry development success in Maluku especially in MTB Regency is availability of woof resources and wastes for livestock. Dry material production total (ton BK) offood plant wastes in MTB Regency is 62855 ton, it is alternative woof source which is given for livestock besides of natural grass. If food plant intensification increases, so food plant waste production will be high. Corn strllW is food plant waste which has high support power that is 21530 ST or about 78 percent, it is compared with otherfood plant wastes in MTB Regency.
Keywords
potency,strategy, food plant waste,ruminant
DOI:
http://dx.doi.org/10.24014/jupet.v7i2.461
Refbacks
There are currently no refbacks.
Jurnal Peternakan 
has been accredited by Sinta 3 : Number 158/E/KPT/2021
Starting from Vol. 18 No. 1 Year 2021 to Vol. 22 No. 2 Year 2025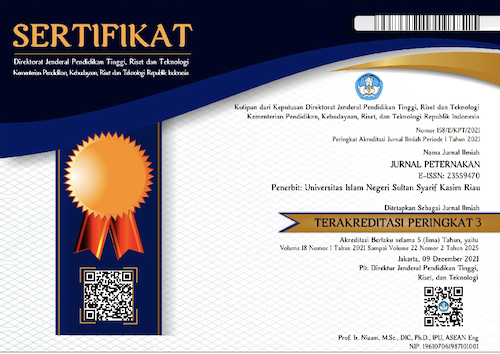 Jurnal Peternakan Indexed By:

Creation is distributed under the 
Creative Commons Attribution 4.0 International License
. 
View Mystats