PENINGKATAN KUALITAS BAKSO AYAM DENGAN PENAMBAHAN TEPUNG TALAS SEBAGAI SUBTITUSI TEPUNG TAPIOKA
Abstract
This research was conducted to evaluate influence of cassava subtitution with calocasia to· quality and self life chicken meat bowl. The experiment design was arranged by campletely randamized block design with 5 treathment and 4 replication. CasstWa and calocasia subtitution level were used as a treatmen. i.e. A(lOO% : 0%),B(75% : 25%), C(50% : 50%), D(25% : 75%), E(O% : 100%). The parameters were evaluated as water value, pH, Total colony count and selflife. The result showed subtitution of cassava with calocasia powder could increase selflife ofchicken meat bowl. The best cambination casstWa and calocasia (0%:100%) was recamanded to produce good quality gelatin ofchicken meat bowl.
Keywords
cassava, calocasia, chicken meat Bowl, selflife
DOI:
http://dx.doi.org/10.24014/jupet.v7i2.460
Refbacks
There are currently no refbacks.
Jurnal Peternakan 
has been accredited by Sinta 3 : Number 158/E/KPT/2021
Starting from Vol. 18 No. 1 Year 2021 to Vol. 22 No. 2 Year 2025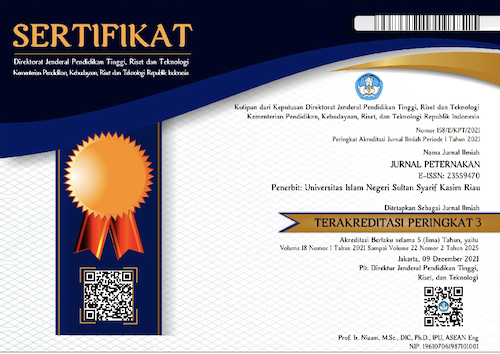 Jurnal Peternakan Indexed By:

Creation is distributed under the 
Creative Commons Attribution 4.0 International License
. 
View Mystats