MELTING RATE, pH AND GLUCOSE CONTENT OF GOAT MILK ICE CREAM STABILIZE BY GRASS JELLY LEAVES GEL (Cyclea barbata Miers) IN DIFFERENT CONCENTRATION
Abstract
This research was conducted in May to June, 2016 in Post-Harvest Technology Laboratory of the Faculty of Agriculture and Animal Science State Islamic University of Syarif Kasim Sultan Riau, and Laboratory of Food and Beverage Trade, Cooperatives, Small and Medium Enterprises Services, Pekanbaru City, Riau Province. This study of aims to determine the physical quality the ice cream with the addition of grass jelly leaves gel as a stabilizer in ice cream. The experimental design used in this study was completely randomized design with five treatments and four replications. Parameters obsered were on study treatment is P0 (without grass jelly leaves gel), P1 (0,25% of grass jelly leaves gel), P2 (0,50% of grass jelly leaves gel), P3 (0,75% of grass jelly leaves gel) and P4 (1,00% of grass jelly leaves gel). The parameters observed were melting time, pH and glucose content. The results showed that the addition of grass jelly leaves gel did not significantly affect (P>0.05) melting rate of ice cream, but significantly decreased the pH value of ice cream (P<0.01) and increased glucose concentration of goat milk ice cream (P<0.01). The conclusions of this research that goat milk ice cream stabilized using grass jelly leaves gel at the level of 1,00% produce yield glucose content was 38,91%, the melting rate for 13,45 minutes and 6,10 of pH value
Keywords
Green grass jelly leaves gel; ice cream; stabilizers
References
DAFTAR PUSTAKA
Akesowan, A. 2008. Effect Of Stabilizers Combined Containing Konjac Flour And k-Carrageenan On Ice Cream. Agriculture University Journal Technology. 12(2): 81-85.
Artha, N. 2001. Isolasi dan Karakteristik Sifat Fungsional Komponen Pembentuk Gel Cincau Hijau (Cyclea barbata L. Miers). Disertasi IPB. Bogor.
Clarke, C. 2004. The Science of Ice Cream. Cambridge (GB): RSC.
Darma, G.S, D. Puspitasari dan E. Noerhartati. Pembuatan Es Krim Jagung Manis Kajian Jenis Zat Penstabil, Konsentrasi Non Dairy Cream serta Aspek Kelayakan Finansial. Universitas Wijaya Kusuma Surabaya. Surabaya.
Ermawati, W. O., S. Wahyuni dan S. Rejeki. 2016. Kajian Pemanfaatan Limbah Kulit Pisang Raja (Musa paradisiaca var Raja) dalam Pembuatan Es Krim. ISSN. Journal Sains dan Teknologi Pangan. 1 (1): 67-72.
Grafianita, 2011. Kadar Kurkuminoid, Total Fenol dan Aktiitas Antioksidan Simplisia Temulawak (Curcuma xanthorrhiza Roxb.) pada Berbagai Teknik Pengeringan. Skripsi. Universitas Sebelas Maret. Surakarta.
Harianto, H, Imam. T dan Purwadi. 2013. Penambahan Tepung Porang (Amorphophallus oncophyllus) Pada Es Krim Yoghurt Ditinjau Dari Sifat Fisik dan Total Bakteri Asam Laktat. Universitas Brawijaya. Malang.
Hendriani, Y. 2005. Stabilitas Es Krim yang Diberi Khitosan sebagai Bahan Penstabil pada Konsentrasi yang Berbeda. Skripsi. Fakultas Peternakan. Institut Pertanian Bogor, Bogor.
Masykuri, Nurwanto, dan Wibawa, R. A. 2009. Pengaruh Penggunaan Keraginan sebagai Penstabil terhadap Kondisi Fisik dan Tingkat Kesukaan pada Es Krim Coklat. Seminar Nasional Kebangkitan Peternakan, Semarang.
Muse, M.R., and Hartel, W. 2004. Ice Cream Structure Elements that Affect Melting Rate and Hardness. ADSA. Journal Dairy Sc. Vol. 87:1-10.
Purnamayanti, L. 2008. Kajian Subtitusi Krim dengan Daging Buah Alpukat (Persea Americana Mill) terhadap Sifat Es Krim. Skripsi. Fakultas Pertanian Universitas Sebelas Maret, Surakarta.
Rahmawati, R. D. 2012. Tingkat Penambahan Bahan Pengembang dalam Pembuatan Es Krim Instan Ditinjau dari Mutu Organoleptik dan Tingkat Kelarutan. Skripsi. Fakultas Peternakan Universitas Brawijaya, Malang.
Simatupang, T. P., Desmelati dan N. I, Sari. 2015. Fortifikasi Tepung Ikan Gabus (Chana striata) pada Es Krim Rumput Laut (Eucheuma cotnii) terhadap Penerimaan Konsumen. Universitas Riau. Riau.
SNI 01-2891-1992. Metode Luff Schoorl Titrasi Iodometri.
SNI 01-3713-1995. Es Krim. Badan Standarisasi Nasional, Jakarta.
Solomons NW. 2002. Fermentation, fermented foods and lactose intolerance p:50-55. Eur. J. Clin. Nutr. 56, Suppl 4.
Steel, R. Dan J. K, Torrie. 1991. Prinsip dan Prosedur Statistik. PT. Gramedia Pustaka Utama. Jakarta.
Suyadi, Nurwantoro dan S. Mulyani. 2012. Total Yeast, pH, Cita Rasa Asam dan Cita Rasa Alkohol pada Es Krim dengan Penambahan Starter Saccharomyces cerevisiae pada Lama Pemeraman yang Berbeda. Animal Agriculture Journal. 1(2): 246-257.
Syahputra, E. 2008. Pengaruh Jenis Zat Penstabil dan Konsentrasi Mentega yang Digunakan terhadap Mutu dan Karakteristik Es Krim Jagung. Dept. Tekper. Fakultas Pertanian, Universitas Sumatera Utara.
Yana, Y. 2015. 11 Manfaat Cincau Hitam Bagi Kesehatan, Diet dan Panas Dalam. http://manfaat.co.id/manfaat-cincau-hitam. Diakses pada tanggal 5 Oktober 2016.
Yeast, K. 2010. Sedikit Mengulas Karakteristik Senyawa Pembentuk Gel Cincau Hijau. https://yisluth.wordpress.com/2010. Diakses pada tanggal 29 September 2016.
Zain, W. N. H. 2013. Kualitas Susu Kambing Segar di Peternakan Umban Sari dan Alam Raya Kota Pekanbaru. Jurnal Peternakan. 10(1): 24-30.
Zakaria, Y., MY, H dan Safara, Y. 2011. Analisa Kualitas Susu Kambing Peranakan Etawah yang Diseterilkan pada Suhu dan Waktu yang Berbeda. Jurnal Agripet. 11(1): 29-31.
DOI:
http://dx.doi.org/10.24014/jupet.v16i2.4072
Refbacks
There are currently no refbacks.
Jurnal Peternakan 
has been accredited by Sinta 3 : Number 158/E/KPT/2021
Starting from Vol. 18 No. 1 Year 2021 to Vol. 22 No. 2 Year 2025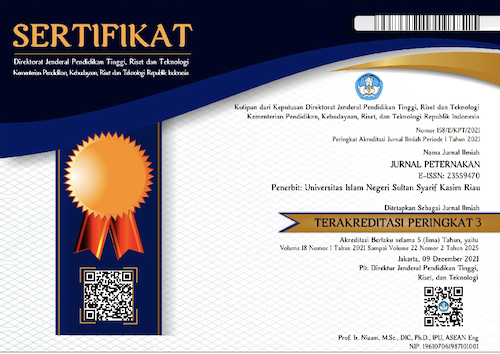 Jurnal Peternakan Indexed By:

Creation is distributed under the 
Creative Commons Attribution 4.0 International License
. 
View Mystats