RESPON ESTRUS KUDA LOKAL DENGAN INDUKSI HORMON PGF2α DI KOTA PAYAKUMBUH
Abstract
Penelitian ini bertujuan mengetahui respon berahi kuda lokal betina yang dipekerjakan menggunakan teknik induksi hormon prostaglandin F2 alfa (PGF2α) secara intramuskular. Sampel yang digunakan dalam penelitian ini adalah 20 ekor kuda betina dengan umur 5-10 tahun yang tidak dalam keadaan bunting atau pada saat fase luteal. Metode singkronisasi estrus dilakukan dengan menginduksi PGF2α (Prostaglandin) dengan dosis 10 mg i.m pada jam 08.00 pagi sebelum ternak kuda dipekerjakan. Pengamatan tingkah laku estrus dilakukan mulai dari satu hari setelah induksi PGF2α sampai munculnya tanda-tanda estrus. Pengamatan tingkah laku estrus dilakukan dengan sistem scoring menurut Colemandan Powell. Data hasil penelitian dianalisis secara deskriptif dan disajikan dalam bentuk rataan dan simpangan baku. Hasil pengamatan menunjukkan bahwa seluruh ternak kuda yang diinduksi dengan 10 mg i.m PGF2α memperlihatkan gejala estrus, namun tanda estrus sangat bervariasi yaitu scoring 1 sebanyak 1 ekor, scoring 2  sebanyak 3 ekor, scoring 3 sebanyak 8 ekor dan scoring 4  sebanyak 7 ekor dengan rata-rata 3.05 ± 0.88 scoring, dan persentase tertinggi pada scoring 3 yaitu 40% dan scoring 4 hanya 35%. Apabila dilihat dari hari mulai meresponya ternak kuda setelah diinduksi hormon PGF2α tergolong cepat yaitu pada 4.25 ± 1.01 hari.
Keywords
respon; estrus; kuda; PGF2α
References
Ahola, J.K., G.E. Seidel Jr., and J.C. Whittier. 2009. Use gonadotropin releasing hormone at fixed time artificial insemination at eighty or ninety seven hours post prostaglandin F2α in beef cows administered the long term melengestrol acetate select synch. The Professional Animal Scientist (25):256-261.
Blakely, J. dan Bade, D.H. 1995. Ilmu Peternakan, 4thAlih Bahasa : Srigandono, B. dan Soedarsono (Judul Asli The Science Of Animal Hubandry, 4 th ed.). Gadjah Mada University Press. Yogyakarta. hal 668-689.
Coleman RJ, Powell D. 2004. Teasing Mares. Cooperative Extention Service. University of Kentucky-College of Agriculture. www.ca.uky.edu. 25 Mei 2011.
Hafez, E.S.E and B Hafez. 2000a. Anatomy of Female Reproduction. In: Hafez E.S.E and B Hafez (Eds). Reproduction in Farm Animals. 7th ed. Lippincot Willkins & Wilkins, Philadephia.
Hyland, J.H. dan F. Bristol. 1979. Synchronization of oestrus and timed insemination of mares. J Reprod. Fertil. Suppl. (27):251-255.
Jainudeen, M.R. and E.S.E. Hafez. 2000. Cattle and Buffalo. In Reproduction in Farm Animals. Hafez, B. and E.S.E. Hafez (Ed.).7th Lippincott Williams & Wilkins, Philadelphia.
Johnson MH, Everitt BJ. 1995. Essential Reproduction. Ed ke-4. USA: Blackwell Science.
Lammoglia, M.A., R.E. Short, S.E. Bellows, M.D. Macneil, and H.D. Hafs. 1998. Induced and synchronized estrus in cattle. J. Anim. Sci. 76:1662-1670.
Listiani, D. 2005. Pemberian PGF2α pada Sapi Peranakan Ongole yang Mengalami Gangguan Korpus Luteum. Tesis. Program Pascasarjana Universitas Diponegoro. Semarang.
Macmillan, K.L. 1983. Prostaglandin Response in Dairy Herd Breeding Programs. Journal Veterinary. 31: 110-113.
McGregor, P. Dan Morris. 1980. The Complete Book of Horse. QED Publishing Ltd, Feltham.
Maidaswar. 2007. Efisiensi Superovulasi pada Sapi Melalui Sinkronisasi Gelombang Folikel dan Ovulasi. Tesis. Program Pascasarjana Institut Pertanian Bogor. Bogor.
Milvae, R.A., Hinckly, S.T., and Carlson, J.C. 1996. Luteotropic and Luteolytic Mechanism in the Bovine Corpus Luteum. J. Theriog. 45 : 1327-1349.
Partodihardjo, S. 1995. Ilmu Reproduksi Hewan. Fakultas Veterinary Institut Pertanian Bogor. Bogor.
Prihatno, S.A. 2003. Pengaruh pemberian prostaglandin F-2α dan methilergometrin terhadap timbulnya estrus setelah beranak pada sapi perah. J. Sain Vet. 21(1):55-59.
Steel, R. G. D. dan J. H. Torrie 1999. Prinsip dan Prosedur statistika. Edisi ke-2. Gramedia Pustaka Utama, Jakarta.
Samper, J. C. 2008. Induction of estrus and ovulation: Why some mares respond and others do not. Theriogenology 70: 445-447.
Samper, J. C., H. Geertsema and P. Hearn. 1993. Rate of luteolysis, folliculogenesis and interval to ovulation of mares treated with a prostaglandin analogue on d6 or 10 of the estrous cycle. Proc. Am. Assoc. Equine Pract: 169-71.
Skarzynski, D.J., M.J. Siemieniuch, W. Pilaeski, I.W. Potocka, M.M. Bah, M. Majewska, and J.J. Jaroszewski. 2009. In vitro assessment of progesterone and prostaglandin E2 production by the corpus luteum in cattle following pharmacological synchronization of estrus. J. Reproduct. Developm. 55(2):170-176.
Toelihere, M. 1981. Fisiologi Reproduksi padaTernak. Angkasa. Bandung.
Waring, G. H. 2003. Horse Behavior. 2nd edn. Noyes Publication William Andrew Publishing, New York.
DOI:
http://dx.doi.org/10.24014/jupet.v14i2.3674
Refbacks
There are currently no refbacks.
Jurnal Peternakan 
has been accredited by Sinta 3 : Number 158/E/KPT/2021
Starting from Vol. 18 No. 1 Year 2021 to Vol. 22 No. 2 Year 2025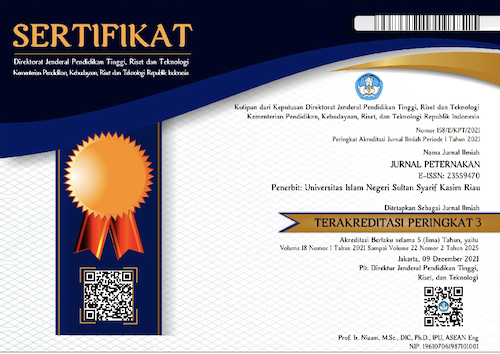 Jurnal Peternakan Indexed By:

Creation is distributed under the 
Creative Commons Attribution 4.0 International License
. 
View Mystats