FRAKSI SERAT SILASE KULIT PISANG KEPOK (Musa paradisiaca) MENGGUNAKAN PENAMBAHAN LEVEL DEDAK DAN LAMA FERMENTASI YANG BERBEDA
Abstract
Banana peels not much optimally used as a substitute for grass. In 2014 the production of banana peels waste Riau province reaches 7.586 ton. More than a third of the banana that has not been in the strip is banana peels. The purpose of this study to determine the effect with different rice bran level and fermentation time of the fiber fraction silage that includes the content of neutral detergent fiber (NDF), acid detergent fiber (ADF), acid detergent lignin (ADL), hemicellulose, and cellulose. This research was conducted at the Laboratory of Nutrition Science and Chemistry, Faculty of Agriculture and Animal Science State Islamic University of Sultan Syarif Kasim Riau Pekanbaru. The research was conducted in April until September 2016. This study were an experimental study using a completely randomized design pattern Factorial consisting of rice bran level (0; 5; and 10%) and fermentation time (0; 14; and 28 days), each treatment was repeated 2 times. There were no significant differences (P>0,05) in NDF, ADF, ADL, hemicelluloses, and cellulose. It can be concluded that there is not interaction between rice bran level and fermentation time toward fiber fraction of banana peels silage.
Keywords
fiber fraction; silage; banana peels; rice bran; fermentation time
References
Astuti, T., Sari, Y., dan Zulkarnani. 2015. Pengaruh Fermentasi Kulit Pisang dengan Mikroorganisme Lokal (MOL) pada Lama Fermentasi dan Sumber MOL yang Berbeda terhadap Kandungan Fraksi Serat sebagai Pakan Ternak. Fakultas Pertanian Universitas Muara Bungo dan Politani Universitas Andalas. Payakumbuh.
Badan Pusat Statistik. 2014. Produksi Buah-buahan Menurut Jenis Tanaman. http://www.bps.go.id. Diakses Oktober 2015
Chesson, A., and Orskov, E. R. 1984. Mikrobial Degradation in Rumen. In Straw and Other Fibrous by Product as Feed, Elsevier Amsterdam Oxford XIX Tokyo. P: 30-31.
Gunawan, C. 1975. Percobaan Membuat Inokulum Untuk Tempe dan Oncom. Makalah Ceramah Ilmiah LKN. LIPI Bandung. Bandung.
Haustein, S. 2003. Evaluating silage quality.http://www.agric.gov.ab.ca. Diakses Desember 2016.
Koni, T., Jublina, B. T., Pieter, R. K. 2013. Pemanfaatan Tepung Kulit Pisang Hasil Fermentasi dengan Jamur Tempe (Rhyzopus aligosporus) dalam Ransum terhadap Pertumbuhan Broiler. Jurnal Veteriner 14 (3): 365-370.
Lynd, L. R., P. J. Weimer., W. H. van Zyl., and I. S. Pretorius. 2002. Microbial cellulose utilization: fundamentals and biotechnology. Microbiol. Mol. Biol. Rev. 66 (3): 506-577.
Middlebeek, E. J., Jenkins, R. O., and Drijver-de Haas, J. S. 1992. Growthin batch culture. Dalam Cartlege TG (Ed), In vitro Cultivation of Microorganism. Oxford, Butterworth-Heinemann. Halaman 79-106.
Nurcahyani, E. P., Sutrisno, C. I., dan Suharmanto. 2006. Utilitas Ampas The yang Difermentasi dengan Aspergillus niger didalam Rumen. Jurnal Penelitian. Fakultas Peternakan, Universitas Diponegoro. Semarang.
Ridwan, R., Ratnakomala, S., Kartina, G., Widyastuti, Y. 2005. Pengaruh Penambahan Dedak Padi dan Lactobacillus plantarum 1BL-2 dalam Pembuatan Silase Rumput Gajah (Pennisetum purpureum). Pusat Penelitian Bioteknologi LIPI, Cibinong. Media Peternakan hal: 117-123.
Singgih, S., Sri, R., Muhamad, B. 2013. Kecernaan Neutral Detergent Fiber (NDF), Acid Detergent Fiber (ADF) dan Serat Kasar Pakan Kerbau Berbasis Jerami Padi. Jurnal Ilmiah Peternakan 1(2): 546-553. Fakultas Pertanian Universitas Jendral Soedirman. Purwokerto.
Steel, R. G. D., dan J. H. Torrie. 1992. Prinsip dan Prosedur Statistik. (Diterjemahkan: B. Sumantri). Gramedia Pustaka Utama. Jakarta
Sumarsih, S. 2009. Kajian Penambahan Tetes sebagai Aditif terhadap Kualitas Organoleptik dan Nutrisi Silase Kulit Pisang. Seminar Nasional Kebangkitan Peternakan. Universitas Diponegoro. Semarang
Suparjo. 2010. Analisis Bahan Pakan Secara Kimiawi. Laboratorium Makanan Ternak Fakultas Peternakan Universitas Jambi. Jambi.
Sutardi, T. 1980. Landasan Ilmu Nutrisi I. Departemen Ilmu Makanan Ternak Fakultas Peternakan Institut Pertanian Bogor. Bogor.
Tillman, A. D., H. Hartadi, S. Prawirokusumo, dan S. Lebdosoekojo. 1998. Ilmu Makanan Ternak Dasar Cetakan ke-V. Gadjah Mada University Press. Yogyakarta.
Widya. 2005. Enzim Selulase. http://kb.atmajaya.ac.id/default. aspx? tab ID=61&src=a&id=84059. Diakses 18 September 2016.
Zahera, R. 2015. Pengaruh Komposisi Substrat dan Dedak Padi terhadap Kandungan Fraksi Serat Silase Mahkota Nanas. Skripsi. Fakultas Pertanian dan Peternakan, Universitas Islam Negeri Sultan Syarif Kasim Riau. PekanbaruTeknologi Pangan. Penerbit PT. Gramedia, Jakarta.
DOI:
http://dx.doi.org/10.24014/jupet.v15i1.3663
Refbacks
There are currently no refbacks.
Jurnal Peternakan 
has been accredited by Sinta 3 : Number 158/E/KPT/2021
Starting from Vol. 18 No. 1 Year 2021 to Vol. 22 No. 2 Year 2025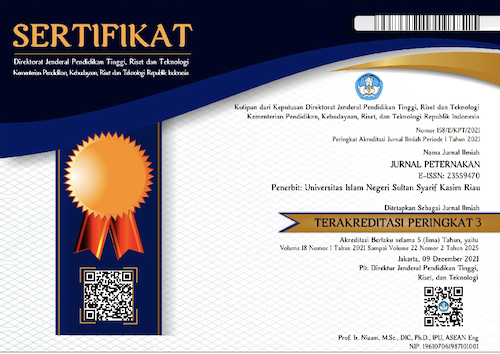 Jurnal Peternakan Indexed By:

Creation is distributed under the 
Creative Commons Attribution 4.0 International License
. 
View Mystats