PERFORMANS ITIK PEDAGING (LOKAL X PEKING) FASE STARTER PADA TINGKAT KEPADATAN KANDANG YANG BERBEDA DI DESA LABOI JAYA KABUPATEN KAMPAR
Abstract
Cage is one of the supported factors in a farm. It will give effect to pleasance catle because crowded cage will influent temperature and atmosphere moisture in the cage. Finally it will give effect for growing duck. Sample which is used iIi research is 66 meaty duck (local x peking) for fase starter. Food which is used is standard food BUS 602-C:rumble. Itis produced by PT Berlian Unggas Sakti. This research used 4 characters, the characters· which are observed is crowded cage degree namely A ( 4 duck/O.5 m2), B ( 5 duck/O.5 m2), C (6 duck/O.5 m2), and D ( 7 duck/O.5 m2). The result of this research can be sununarized that crowded cage degree A and C, A and D give significant (P<O.05) to consumate food. In crowded cage degree B and C, B and D give significant (p<O.05) to add weight physic, but is gives effect which is not significant (p>O.05) to convert food.
. From the result of research. we get information that crowded cage b (5 duck/O.5 m2) gives the best effect for performance of meaty duck. Itis indicated by high adding weight of physic and convertion oflower food.


Keywords
cage degree, cage system litter, meaty duck.
DOI:
http://dx.doi.org/10.24014/jupet.v6i1.355
Refbacks
There are currently no refbacks.
Jurnal Peternakan 
has been accredited by Sinta 3 : Number 158/E/KPT/2021
Starting from Vol. 18 No. 1 Year 2021 to Vol. 22 No. 2 Year 2025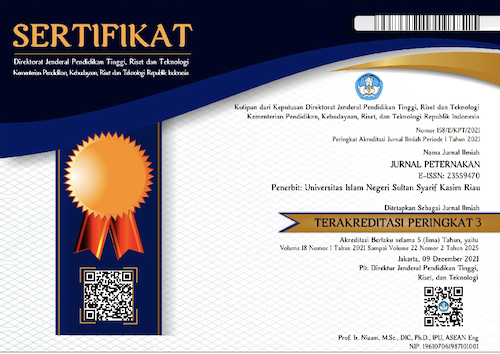 Jurnal Peternakan Indexed By:

Creation is distributed under the 
Creative Commons Attribution 4.0 International License
. 
View Mystats