PENGGUNAAN MADU LEBAH (GENUS APIS) SEBAGAI BAHAN PENGAWET ALAMI DAGING SAPI
Abstract
Nutrient content in fresh meat is the best nutrient for growing and living microorganism like bacteria because their activity could decreased the quality of fresh meat. In order to maintain the quality of fresh meat, the good handling with using the natural preservative agent such as bee honey (Genus Apis) was needed. The latest research showed that bee honey had antimicrobial activity in its compound i.e. flavonoids (galangin and quercetin), enzymes glucose oxydase, lysozyme, sugars, aromatic adds and esters, etc. This research was carried out to know the effect of using bee honey with 4 levels concentration 0%, 10%, 20% and 30% as immersion liquid of fresh meat. Parameters of this research consists of pH value, moisture, total coloni bacteria and sensory properties (colour, aroma and texture). Experiment design was complete random design with 4 levels concentration of bee honey as treatments and 3 replications. The result showed that immersion of fresh meat in 30% solution of bee honey could decreased pH value to 4,14, moisture to 68,58 %, total colony bacteria to 1,6 x 1()i
. CPU/ g and still kept the sensory properties of fresh meat.


Keywords
fresh meat, !wney bee and natural preseroative agent.
DOI:
http://dx.doi.org/10.24014/jupet.v6i1.343
Refbacks
There are currently no refbacks.
Jurnal Peternakan 
has been accredited by Sinta 3 : Number 158/E/KPT/2021
Starting from Vol. 18 No. 1 Year 2021 to Vol. 22 No. 2 Year 2025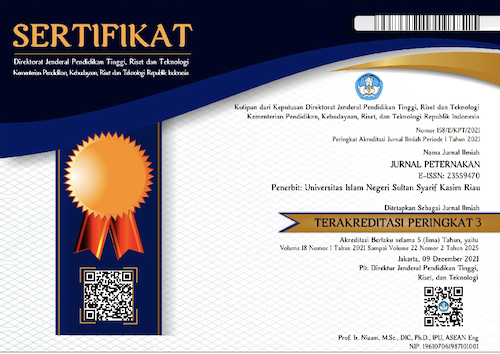 Jurnal Peternakan Indexed By:

Creation is distributed under the 
Creative Commons Attribution 4.0 International License
. 
View Mystats