FERMENTABILITAS DAN KECERNAAN IN VlTRO SERBUK SABUT KELAPA YANG DISUPLEMENTASI DENGAN BEBERAPA TARAF MINERAL SULFUR
Abstract
Penelitian ini bertujuan untuk mengetahui pengaruh suplementasi mineral sulfur pada serbuk sabut kelapa fermentasi dalam meningkatkan kecernaan dan fermentabilitas serbuk sabut kelapa. Serbuk sabut kelapa terlebih dahulu difermentasi dengan menggunakan mikroba selulolitik rumen se1ama 24 jam dengan dosis inokulum mikroba 1()9 cfu/ml Rancangan yang digunakan adalah Rancangan Acak Kelompok(RAK) dengan 4 perlakuan dan 4 kelompok sebagai ulangan. Perlakuan yang diberikan adalah level pemberian sulfur yaitu . 0, 0.1, 0.2 dan 0.3% dari bahan kering. Hasn penelitian memperJihatkan bahwa penambahart mineral sulfur mampu meningkatkan kecernaan dan ferm.entabilitas serbuk sabut kelapa ferm.entasi. Level sulfur terbaik adalah 0.2%dati bahan kering.


Keywords
serbuk sabut kelapa, mikroba selulolitik rumen, kecernaan in vitro
DOI:
http://dx.doi.org/10.24014/jupet.v6i1.342
Refbacks
There are currently no refbacks.
Jurnal Peternakan 
has been accredited by Sinta 3 : Number 158/E/KPT/2021
Starting from Vol. 18 No. 1 Year 2021 to Vol. 22 No. 2 Year 2025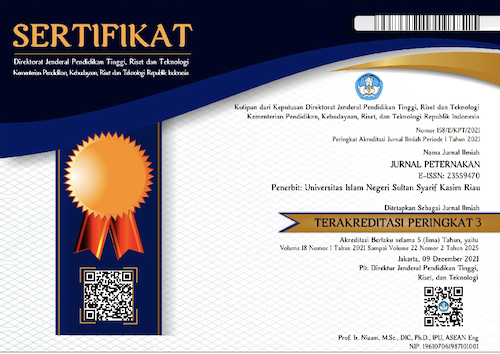 Jurnal Peternakan Indexed By:

Creation is distributed under the 
Creative Commons Attribution 4.0 International License
. 
View Mystats