KUALITAS DADIH SUSU KERBAU DENGAN LAMA PEMERAMAN YANG BERBEDA
Abstract
An experiment wasjconducted to determine quality of dadih from buffalo milk with different incubation time. They were randomly allocated into 4 treatments in a randomized block design with 3 replications. Treatments were: A = 12 hours B =24 hours C =36 hours and D =48 hours. The result of this research was showed that 48 hours the best of incubation time at temperature 450 C, which nutrient content of dadih was crude protein 9.96"', fat 9.89"', moisture 73.02%, pH value 5.02 and total plate count 1.70 x 1()6 CFU / gram.


Keywords
buffalo milk incubation time, total plate count
DOI:
http://dx.doi.org/10.24014/jupet.v6i1.341
Refbacks
There are currently no refbacks.
Jurnal Peternakan 
has been accredited by Sinta 3 : Number 158/E/KPT/2021
Starting from Vol. 18 No. 1 Year 2021 to Vol. 22 No. 2 Year 2025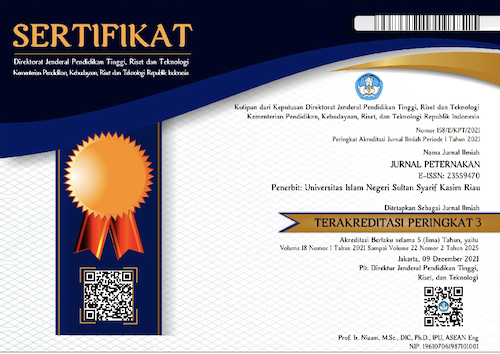 Jurnal Peternakan Indexed By:

Creation is distributed under the 
Creative Commons Attribution 4.0 International License
. 
View Mystats