ANALISIS FAKTOR-FAKTOR YANG MEMPENGARUHI KONSUMSI DAGING AYAM BROILER MASYARAKAT DI KECAMATAN TEMBILAHAN KABUPATEN INDRAGIRI HILIR
Abstract
The purpose of the research was to analyzed the effect of income per month (Xl), cost of broiler meat (X2), cost of cow meat (X3), cost of goat meat (X4), cost ofburas meat (X5), consumption cow meat (X6), intensity of bought cow meat (X7), ), consumption goat meat (X8), intensity of bought goat meat (X9), consumption buras meat (X10), intensity of bought buras meat (XU), amount of responsibility family (X12), intensity of bought broiler meat (X13) apd preference (X14) to the broiler meat consumption (Y) societies of Tembilahan District in Jndragiri Hilir Regency. The research was done by using survey method and direct interview to the field The technique intake of sample was done with random sampling. From six Countryside exist in District of Tembilahan taken by 30 % Countryside owning the amount of solid resident, so that got Countryside of Tembilahan Kota and Tembilahan Hilir, each every Countryside deputized by 5 % from amount of resident, so that got 445 responden which consist of168 responden in Tembilahan Hilir and 277 responden in Tembilahan Kota. The data was analyzed using multiple linear regression with SPPS versi
12. The Result of research showed that consumption of broiler meat societies in Tembilahan District was about 1,66 ± 0,91 kg I week, with coefficient of variety equal to 54,81%. Factors thateffected the consumption of broiler meat were consumption buras meat (XIO), consumption of goat meat (XS) and intensity of bought buras meat (XU), had effect about 56% to the consumption of broiler meatsocieties in T embilahan District of Jndragiri Hilir regency.


Keywords
broiler meat, consumptkm,income per month
DOI:
http://dx.doi.org/10.24014/jupet.v5i2.289
Refbacks
There are currently no refbacks.
Jurnal Peternakan 
has been accredited by Sinta 3 : Number 158/E/KPT/2021
Starting from Vol. 18 No. 1 Year 2021 to Vol. 22 No. 2 Year 2025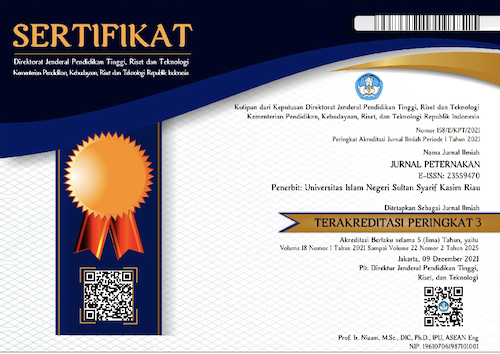 Jurnal Peternakan Indexed By:

Creation is distributed under the 
Creative Commons Attribution 4.0 International License
. 
View Mystats