PENGARUH PENAMBAHAN MINERAL Ca, P, Mg dan S DALAM RANSUM TERHADAP STATUS MINERAL PADA KAMBING KACANG
Abstract
The research was aimed to study the influence of addition of Ca, P, Mg dan S minerals in diet on Ca and P of minerals status of blood plasma and bone compound on the kacang goats. Four dietary treatments were: A. Forage + concentrate (was a control), B. Forage + concentrate + Ca + P, C. Forage + concentrate + Ca + P + Mg and D. Forage + concentrate + Ca + P + S. The forage contains of nature grass· + 1eucaena + gliricidia and the concentrate contains of rice meal, com,. meal coconut The data were statistically ana1ized by using 4 x 5 design. The results showed that minerals addition treatments into the diet were effected significantly (P < 0,01) by blood plasma Ca but tendency significantly (P < 0,10) of blood plasma P and not significant of blood plasma Mg and S. The treatments were also effected not significant (P > 0,5) by the Ca of bone compound but significantly (P < 0,01) on P of bone compound.


Keywords
minerals, blood plasnul, bone compound
DOI:
http://dx.doi.org/10.24014/jupet.v5i2.288
Refbacks
There are currently no refbacks.
Jurnal Peternakan 
has been accredited by Sinta 3 : Number 158/E/KPT/2021
Starting from Vol. 18 No. 1 Year 2021 to Vol. 22 No. 2 Year 2025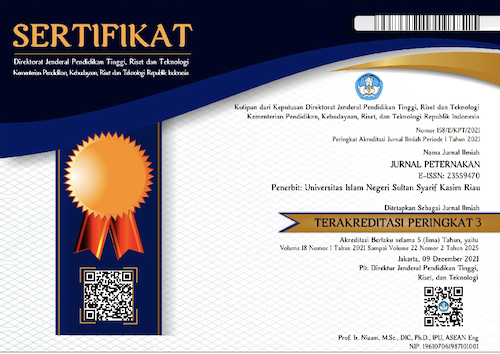 Jurnal Peternakan Indexed By:

Creation is distributed under the 
Creative Commons Attribution 4.0 International License
. 
View Mystats