OPTIMASI PENGGUNAAN TENAGA KERJA KELUARGA PETANI TERNAK SAPI DI SEKITAR HUTAN ADAT KABUPATEN KAMPAR
Abstract
Labour optim.a1ization reached by selecting the suitable subfarming system with labour capability and teamwork system. The objective of the study was to know the allocation of family labour to maximize the income of <:attle farming family who live around adat forest The study was conducted in adapt forest Rumbio in Kampar. The data collected in two stages sampling technique. First, to get three villages from nine one, was used purposive random sampling and simple random sampling. Then, the responden was choiced with criteria have cattle and plantation. The data analyzed using linear programming. The result indicated that the allocation of family labour higher in plantation than cattle farming. Through optimalization the family labour, the family income will be
increase.


Keywords
optimalization, labcmr, adapt forest
DOI:
http://dx.doi.org/10.24014/jupet.v5i2.286
Refbacks
There are currently no refbacks.
Jurnal Peternakan 
has been accredited by Sinta 3 : Number 158/E/KPT/2021
Starting from Vol. 18 No. 1 Year 2021 to Vol. 22 No. 2 Year 2025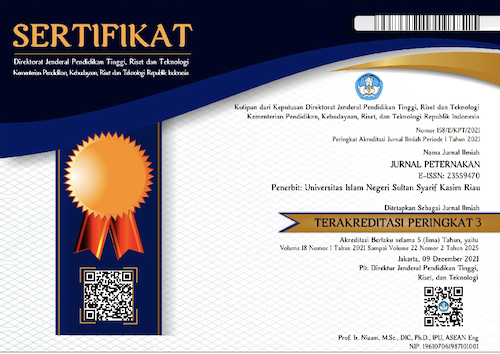 Jurnal Peternakan Indexed By:

Creation is distributed under the 
Creative Commons Attribution 4.0 International License
. 
View Mystats