PENGARUH PENAMBAHAN DEDAK PADI DAN INOKULUM BAKTERI ASAM LAKTAT DARI CAIRAN RUMEN SAPI PERANAKAN ONGOLE TERHADAP KANDUNGAN NUTRISI SILASE RUMPUT GAJAH
Abstract
The  objective  of  this  study  was to  evaluate  the  effect of  rice bran as  carbohydrate  source  and  inoculums of lactic acid  bacteria  (LAB) incubated from  PO  catles rumen fluid  on the quality  of  napier   grass  (Pennisetum  purpureum ) silages.  The  research  was  conducted  at Ujung ujung  village Pabelan  District  Semarang  Regency.  Feed  analysis  was carried out   in Laboratory   Biochemical   Nutrition, Animals Feed   Science, Animal   Science   Faculty, Gadjah   Mada University. This study  was  assigned  into  Completely  Randomized  Design  wth  4 treatment s  and 3 replicated. The treatments  were : T0 =  0% 0f  rice bran  ; T1 = 1%  of rice bran and inoculums of lactic  acid 0,1% v/w; T2 = 3% rice brand and inoculums of lactic 0,1% v/w; T3 = 5% rice bran and inoculums of lactic acid  0,1 v/w  and incubated  for  30 days . The results  showed that  the  addition  of 1–5% rice bran  significantly  affected (P<0,05) lactic acid content , pH,  dry matter and organic matter   content than without treatment    increased levels, adecrease in pH   and content of dry   matter and organic matter from Napier   grass silage. Increasing   level of   rice bran   significantly   (P<0,05) increased   lactic   acid content, decreased, pH   dry matter, and organic matter   concentration   of Napier grass silage.   However , among the treatment  groups  of  1,  3, and 5% of rice bran  was not significant  (P<0,05) different on  the lactic acid  content,  pH, dry matter and organic matter
Keywords
lactic acid bacteria; rice bra;, napier gras, silage; additive
References
Bolsen, K.K., Ashbell, M.G and J.M. Wilkinnson.
Silage Additives in Biotechnology in
Animal Feeding.
R.J.Wallace & A. Chesson (Eds.) VCH, Weinheim. Cappucino, J. G., and Natalie, S.
Microbiology : A Laboratory Manual Rockland Community College State University of New York.
Dairy One., 2007. Dairy One Forage Lab Analytical Procedures (http://www. Dairyone.com Forage/Procedures
/default.htm. [Agustus 2013]
Filya, I., 2003. The Effect of Lactobacillus buchneri and Lactobacillus plantarum on The Fermentation, Aerobic stability, and Ruminal Degradability of Low Dry Matter Corn and Sorgum Silages. J.Dairi Sci . 86:3575-3581.
Hartadi, H., S, Reksohadiprodjo, A.D. Tilman.
Tabel Komposisi Pakan untuk
Indonesia. Cetakan ke-3. Universitas Gadjah
Mada, Yogyakarta.
Jasin, I., Sugiyono, dan Sriwahyuni, 2012.
Isolation and Identification of Acid Lactic
Bacteria from PO Cattles Gastrric Fluid as A potential Candidate of Biopreservative. Preceding International seminar 4th-6th September 2013. Faculty of Veterinary Medical Airlangga University Surabaya.
Leng, R.A.1991.Aplication of biotechnology to nutrition of animals in developing countries. FAO Animal Production and Health Paper no
Roma Italy.
Steel, R.G.D, dan H.Torrie. 1995. Prisip dan Prosedur Statistik. Terjemahan; B.Sumantri. PT. Gramedia Pustaka Utama. Jakarta.
Suhardjo, H, L.L., Brady, L. D, and Judya, D.1986. Pangan, Gizi dan Pertanian. UI Press, Jakarta.
Skerman, P. J., Riveros, F. 1990. Tropical Grasses.
FAO Plant Production Series (23). Food and
Agriculture of The United Nation, Roma.
Weinberg, Z.G., R.E, Muck, P.J. Weimer, Y.
Chen, & m. Gamburg. 2004. Lactic Acid Bacteria Used In Inoculants For Silage As Probiotics For Ruminants. Applied Biochemistry And Biotechnology.
:1-10
DOI:
http://dx.doi.org/10.24014/jupet.v11i2.2721
Refbacks
There are currently no refbacks.
Jurnal Peternakan 
has been accredited by Sinta 3 : Number 158/E/KPT/2021
Starting from Vol. 18 No. 1 Year 2021 to Vol. 22 No. 2 Year 2025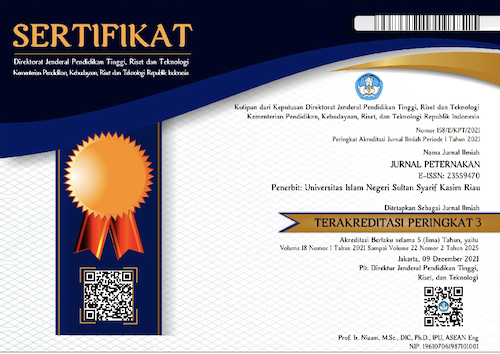 Jurnal Peternakan Indexed By:

Creation is distributed under the 
Creative Commons Attribution 4.0 International License
. 
View Mystats