THE EFFECT OF TURMERIC AND GARLIC PHYTOBIOTIC ADDITION WITH DIFFERENT DURATION STORAGE ON THE FUNGAL COLONY IN FEED
Abstract
Turmeric and garlic phytobiotic contain bioactive substances, each of which has a function as an antifungal. The study aims to determined to test the ability turmeric and garlic phytobiotic pressed fungal colonies in the feed with different storage time. The data were analyzed by a factorial experimental design with 5 treatments 4 replications and 2 repetitions. The first factor types phytobiotic and the second factor was storage duration. R0 = basal ration (without phytobiotic), R1 = basal ration + 0.3% synthetic antifungal, R2 = basal ration + 2.5% turmeric, R3 = basal ration + 5% garlic, R4 = (basal ration + 2.5% turmeric+ 5% garlic. W0, W1, W2 and W3 respectively with storage time 0, 2, 4 and 6 weeks. Samples were taken from each experimental unit homogeneously. The results showed the average fungal colonies of garlic phytobiotic treatment (26.06±44.76 CFUx103/g) in 2-week storage time (25.20±22.52 CFUx103/g) lower than the provision of synthetic preservatives (57.75±52.03 CFUx103/g) and the control treatment (74.87±70.69 CFUx103/g). Fungal colonies increases rapidly with increasing length of time of storage. The conclusion of this study was that the additon of turmeric and garlic phytobiotic capable as an antifungal in feed.
Keywords
fungal colony, garlic, phytobiotic, storage, turmeric
DOI:
http://dx.doi.org/10.24014/jupet.v13i2.2421
Refbacks
There are currently no refbacks.
Jurnal Peternakan 
has been accredited by Sinta 3 : Number 158/E/KPT/2021
Starting from Vol. 18 No. 1 Year 2021 to Vol. 22 No. 2 Year 2025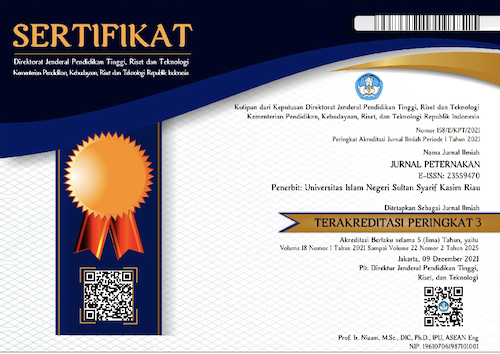 Jurnal Peternakan Indexed By:

Creation is distributed under the 
Creative Commons Attribution 4.0 International License
. 
View Mystats