NILAI NUTRISI AMPAS TEBU (Bagasse) YANG DIFERMENTASI MENGGUNAKAN STARBIO® PADA LEVEL YANG BERBEDA
Abstract
The bagasse has potential as an alternative feed for ruminant. However,  though the high of the crude fibre and the very low in the nutritional value make them very limited in using for animal feed. To overcome the problem in order to increase nutritional value was the fermentation technology by the application of the starbio inoculums. The objective of the research was to observe the  nutrition  qualities of the bagasse with aplication of different levels of starbio. The experimental design was  a completely Randomized Design  with 4 treatments i.e. P0 (bagasse + 0% Starbio), P1 (bagasse+ 0.2% starbio), P2 (bagasse+ 0.4% Starbio), P3 (bagasse+ 0.6% Starbio) and each treatment has 5 replication, The parameters measured were pH, dry matter (DM), crude protein (CP), ether extract (EE) crude fiber (CF), ash and Nitrogen Free Extract (NFE). The results of the research indicated that pH of the  fermentation was very good (3.37-3.67), DM (66.59-68.73%), and CP 1.47-1,97%. However, there was no effect on EE, CF, ashes and NFE. The addition of 0.6% starbio was the best result to increase CP but did not affect on ash content.
Keywords
sugarcane, by product, probiotic
DOI:
http://dx.doi.org/10.24014/jupet.v13i2.2420
Refbacks
There are currently no refbacks.
Jurnal Peternakan 
has been accredited by Sinta 3 : Number 158/E/KPT/2021
Starting from Vol. 18 No. 1 Year 2021 to Vol. 22 No. 2 Year 2025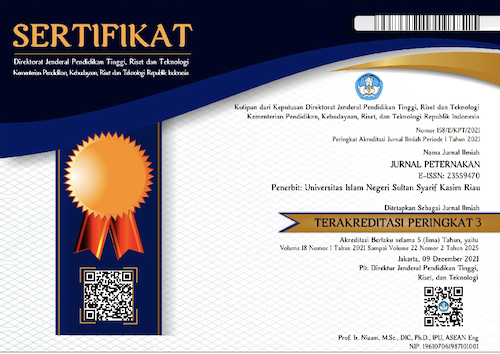 Jurnal Peternakan Indexed By:

Creation is distributed under the 
Creative Commons Attribution 4.0 International License
. 
View Mystats