PEMAKAIAN ONGGOK FERMENTASI DALAM RANSUM TERHADAP PERFORMA AYAM BURAS PERIODE PERTUMBUHAN
Abstract
The aims of this research was to study the effect of using fermented onggok in ransum to native chicken performance. The design used was completely randomized design (CRD) with 5 treatment i.e : R1 (10%), R2 (15%), R3 (20%), R4 (25%) and R5 (30%) with 4 replications. The ransum was composed with  protein (18%) and  calorie (2900 kcal/kg). Result of research shows that using fermented onggok had highly significant effect (P< 0.05) towards the feed consumption, body weight gain and feed conversion  of buras. It was concluded that using fermented onggok could increase highly body weight at level 15%.
Keywords
native chicken, performance, fermented, onggok
DOI:
http://dx.doi.org/10.24014/jupet.v13i2.2418
Refbacks
There are currently no refbacks.
Jurnal Peternakan 
has been accredited by Sinta 3 : Number 158/E/KPT/2021
Starting from Vol. 18 No. 1 Year 2021 to Vol. 22 No. 2 Year 2025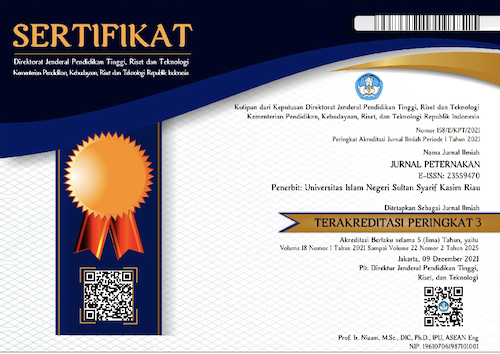 Jurnal Peternakan Indexed By:

Creation is distributed under the 
Creative Commons Attribution 4.0 International License
. 
View Mystats