PENILAIAN KUALITAS FISIKA DAN KIMIA GELATIN EKSTRAK DARI KAKI AYAM TUA (KAT)
Abstract
This study aims to examine the physico chemical properties of gelatin extracted from spent hen with HCl pretreatment with immersion for 5 and 10 days. With extraction stages E1 temperature (45°C), E2 (65°C), and E3 75°C. Analysis results show there is significant difference (p<0.05) on the strength of bloom, the attribute color (b*has a negative value), and solubility. Respective is in the range ash content 1,10-2,26%, protein (68.91-79.86%), fat (1:10 to 2:26%), moisture (5.0-10.3%) and carbohydrate (10.1-20.84% ) for SCF 5, while the SCF 10. Ash (1.99-2.27%), protein (77.81-80.80%), fat (1:00 to 2:00%), moisture (5.0-7.0%), carbohydrate (9.58-12.60%).
Keywords
bloom streght, solubility, gelatin
DOI:
http://dx.doi.org/10.24014/jupet.v11i1.2326
Refbacks
There are currently no refbacks.
Jurnal Peternakan 
has been accredited by Sinta 3 : Number 158/E/KPT/2021
Starting from Vol. 18 No. 1 Year 2021 to Vol. 22 No. 2 Year 2025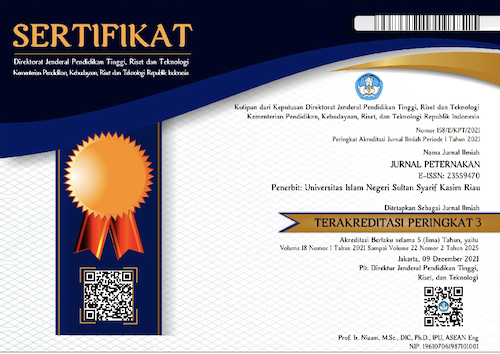 Jurnal Peternakan Indexed By:

Creation is distributed under the 
Creative Commons Attribution 4.0 International License
. 
View Mystats