DOSIS INOKULUM DAN LAMA FERMENTASI JAMUR Pleurotus ostreatus TERHADAP KANDUNGAN NUTRISI Azolla microphylla
Abstract
This research aims analyze the effect of inoculum dosage of Pleurotus ostreatus and the length of fermentation on the nutritious content of Azolla. The experimental design used completely randomized design in factorial (3 x 3). The first factor is the inoculum dosage, namely : (D1). 3%, (D2).6% and (D3).9% of substrate weight. The second factor is the length of fermentation, namely : (L7). 7 days, (L14). 14 days and (L21). 21 days. Every treatment is repeated for three time. The data found is scrutinized by mode print and it is followed by distance test of multiple Duncan (Steel and Torrie, 1989). The variables observed in research are dry materials, crude fiber, crude protein, cellulose and lignin. The research on the influence of inoculum dosage and the length of fermentation on dry materials content, crude protein and cellulose had not significant effect (P>0.05). On the other hand, crude fiber,and lignin had significant effect (P<0.01). The inoculum dosage of 9% and the fermentation length of 14 days is the best combination treatment and it can reduce the crude fiber amounting to 48.80%, an increase of crude protein amounting to 39.31% and a decrease of cellulose and lignin amounting to 49.86% and 27.66% respectively.
Keywords
fermentation, Pleurotus ostreatus and Azolla
DOI:
http://dx.doi.org/10.24014/jupet.v11i1.2325
Refbacks
There are currently no refbacks.
Jurnal Peternakan 
has been accredited by Sinta 3 : Number 158/E/KPT/2021
Starting from Vol. 18 No. 1 Year 2021 to Vol. 22 No. 2 Year 2025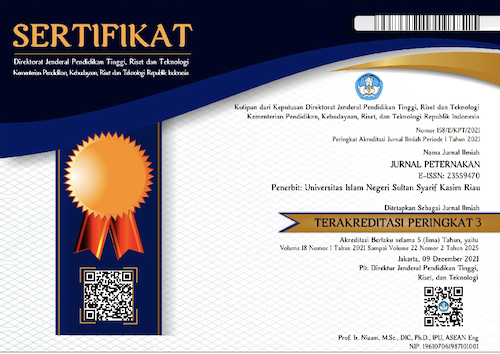 Jurnal Peternakan Indexed By:

Creation is distributed under the 
Creative Commons Attribution 4.0 International License
.
View Mystats