KAJIAN DAYA HAMBAT BAKTERI ASAM LAKTAT SILASE RANSUM KOMPLIT BERBASIS HASIL SAMPING JAGUNG, UBI KAYU DAN SAWIT
Abstract
Lactic acid bacteria as probiotic are considered alternative to antibiotic growth promotor. The aims of this study were
to investigate inhibition of lactic acid bacteria isolated from completed feed silage based on corn silage (SRKJ), palm silage
(SRKS) and cassava silage (SRKU) by products. Data from Factorial Completely Randomized Design were analyzed
variance followed by Duncan test. The result showed that the inhibition and number lactic acid bacteria isolated from SRKJ
(0,38 cm, 6,05 cfu/gr) were higher (P<0,05) than those of SRKS (0,27 cm, 5,82 cfu/gr) and SRKU (0,22 cm, 5,14 cfu/gr).
It is concluded that lactic acid bacteria from SRKJ was the best in term of number latic acid bacteria and inhibition ability.
Keywords
complete feed silage, inhibition ability, lactic acid bacteria
DOI:
http://dx.doi.org/10.24014/jupet.v8i2.197
Refbacks
There are currently no refbacks.
Jurnal Peternakan 
has been accredited by Sinta 3 : Number 158/E/KPT/2021
Starting from Vol. 18 No. 1 Year 2021 to Vol. 22 No. 2 Year 2025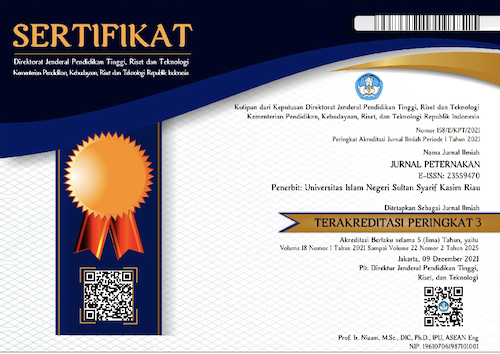 Jurnal Peternakan Indexed By:

Creation is distributed under the 
Creative Commons Attribution 4.0 International License
. 
View Mystats