KUALITAS SUSU KAMBING SEGAR DI PETERNAKAN UMBAN SARI DAN ALAM RAYA KOTA PEKANBARU
Abstract
Goat milk quality is an important aspect to get high quality goat milk for consumer. Hence, the information goat milk quality is still not defined. This study aimed to know goat milk quality in Pekanbaru city. A study was conducted to observe milk goat quality at 2 dairy goat farms (Umban Sari farm and Alam Raya farm). The data then analyzed using t-test for comparing the two farms. Parameters used to determine goat milk quality are total plate count (TPC), protein, fat, acidity degree (pH), alcohol test and spesific density of raw goat milk. Research result indicated that raw milk goat from Alam Raya farm was significantly difference (P<0,05) higher than raw goat milk from Umban Sari. The total plate count of raw goat milk from Alam Raya farm is exceed the standard of SNI 01-3141-1998. Results of protein, fat and pH raw goat milk were appropriate to the minimun standard of INS 01-3141-1998 and Thai Agriculture Standard (TAS) of raw goat milk. On the other hand, result showed in milk spesific gravity that is less than INS 01-3141-1998 and Thai Agriculture Standard (TAS) standard.
Keywords
goat milk, quality, Alam Raya and Umban Sari Farm
DOI:
http://dx.doi.org/10.24014/jupet.v10i1.155
Refbacks
There are currently no refbacks.
Jurnal Peternakan 
has been accredited by Sinta 3 : Number 158/E/KPT/2021
Starting from Vol. 18 No. 1 Year 2021 to Vol. 22 No. 2 Year 2025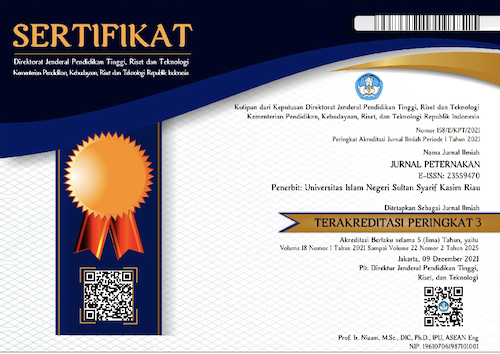 Jurnal Peternakan Indexed By:

Creation is distributed under the 
Creative Commons Attribution 4.0 International License
. 
View Mystats