MUTU KIMIA DENDENG SEMI BASAH DAGING AYAM YANG DIRENDAM JUS DAUN SIRIH (Piper betle L.) DENGAN KONSENTRASI DAN LAMA PERENDAMAN BERBEDA
Abstract
This research was conducted in September until October 2012 in the Laboratory of Post-Harvest Technology; Laboratory of Patology, Entomology and Microbiology Islamic State University of Sultan Syarif Kasim Riau, and in the Food Chemistry Laboratory Faculty of Fisheries and Marine Science Riau University. The aims of this research was to know the protein content, fat content, water content and ash content. This research was based on Completely Randomized Design with factorial pattern (two factors) with two repetitions. The first factor was the concentration of  betle leaf juice ( 0%, 5%, 10% and 15% ) and the second factor was the soaking duration (0, 5, 15 and 15 hours). The results showed that increasing betle leaf juice and soaking duration gave very significant effect (P<0,01) to increase protein content, to lower fat content and water content but no significant effect on ash content. The best treatment of protein content 15% and soaking duration 15 hours (29,35%), fat content 15% and soaking duration 15 hours (0,50%), water content 15% and soaking duration 15 hours (45,45%) and ash content 15% and soaking duration 5 hours (1,40%).
Keywords
betle leaf juice, dendeng, meat chicken quality, soaking duration
DOI:
http://dx.doi.org/10.24014/jupet.v10i1.153
Refbacks
There are currently no refbacks.
Jurnal Peternakan 
has been accredited by Sinta 3 : Number 158/E/KPT/2021
Starting from Vol. 18 No. 1 Year 2021 to Vol. 22 No. 2 Year 2025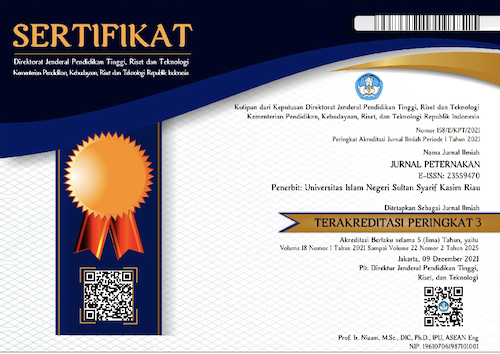 Jurnal Peternakan Indexed By:

Creation is distributed under the 
Creative Commons Attribution 4.0 International License
. 
View Mystats