Kualitas Organoleptik dan pH Litter Broiler yang Dipelihara di Kandang Closed House pada Ketinggian Dataran yang Berbeda
Abstract
ABSTRAK. Penelitian bertujuan mengkaji pengaruh perbedaan ketinggian dataran terhadap kualitas organoleptik dan potential of Hydrogen (pH) litter yang dipelihara di kandang closed house. Materi penelitian adalah litter broiler dari 15 kandang closed house di Kabupaten Demak, Kota Semarang dan Kabupaten Kendal. Penelitian menggunakan rancangan acak lengkap (RAL) dengan 3 perlakuan dan 5 ulangan. Perlakuan yang diberikan yaitu kandang closed house dengan ketinggian berbeda, T1= 0-100 mdpl; T2= 100-300 mdpl; dan T2= 300-500 mdpl. Parameter yang diamati yaitu kualitas organoleptik meliputi warna, bau, tekstur dan cemaran, dengan metode skala perbandingan, dan nilai pH yang diukur dengan alat pH meter digital. Data yang diperoleh dianalisis menggunakan uji ANOVA, dilanjutkan dengan uji DMRT pada taraf signifikasi 5%. Hasil penelitian menunjukkan bahwa ketinggian dataran yang berbeda tidak berpengaruh nyata (P>0,05) terhadap kualitas organoleptik dan pH litter broiler yang dipelihara di kandang closed house. Litter broiler memiliki organoleptik sedikit bau amonia, tekstur gumpalan, warna coklat, dan terdapat satu jenis cemaran. Nilai pH litter broiler berkisar antara 7,37-8,35. Kesimpulan penelitian yaitu ketinggian dataran tidak mempengaruhi kualitas organoleptik dan pH litter ayam broiler yang dipelihara di kandang closed house. 
Organoleptic Quality and pH Litter of Broiler Chicken Maintained in Closed house Cages at Different Altitudes
ABSTRACT. The aim of the study was to examine the effect of differences in altitude on the organoleptic quality and potential of Hydrogen (pH) litter kept in closed house cages. The research material is broiler litter from 15 closed house cages in Demak Regency, Semarang City and Kendal Regency. The study used a completely randomized design (CRD) with 3 treatments and 5 replications. The treatments given were closed house cages with different heights, T1 = 0-100 masl; T2= 100-300; and T2 = 300-500 masl. Parameters observed were organoleptic quality including color, odor, texture and contamination, with a comparison scale method, and pH values measured by a digital pH meter. The data obtained were analyzed using the ANOVA test, followed by the DMRT test at a significance level of 5%. The results showed that different altitudes had no significant effect (P>0.05) on the organoleptic quality and pH of broiler litter kept in closed house cages. Broiler litter has an organoleptic odor with a slight ammonia smell, lumpy texture, brown color, and there is one type of contamination. The pH value of broiler litter ranges from 7.37-8.35. The conclusion of the study was that the elevation of the plains did not affect the organoleptic quality and pH of the litter of broiler chickens kept in closed house cages.
Keywords: Closed house, litter, organoleptic, pH, plain.
Keywords
Closed house, dataran, litter, organoleptik, pH
References
Aprintasari, A., C. I. Sutrisno & B. I. M. Tampoeboelon. 2012. Uji total fungi dan organoleptik pada jerami padi dan jerami jagung yang difermentasi dengan isi rumen kerbau. Anim. Agr. J. 1 (2) : 311 – 321.
Barruni, N., S. Tantalo, D. Septinova dan K. Nova. 2020. Pengaruh kepadatan kandang terhadap bobot hidup, karkas, dan giblet broiler umur 14-28 hari di closed house. J. Riset dan Inovasi Peternakan. 4 (2): 104-108. DOI : https://doi.org/10.23960/JRIP.2020.4.2.104
Davit, J. M., R. P. Yusuf & D. A. S. Yudari. 2013. Pengaruh cara pengolahan kakao fermentasi dan non fermentasi terhadap kualitas, harga jual produk pada Unit Usaha Produktif (UUP) Tunjung Sari Kabupaten Tabanan. J. Agribisnis dan Agrowisata. 2 (4) : 191 - 203.
de Toledo T. dS., A. A. P. Roll, F. Rutz, H. M. Dallmann, M. A. Dai Pra, F. P. L. Leite. 2020. An assessment of the impacts of litter treatments on the litter quality and broiler performance: A systematic review and meta-analysis. PLoS ONE 15 (5): e0232853. https://doi.org/10.1371/journal.
Dewanti, A. C., P. E. Santoso & K. Nova. 2014. Pengaruh berbagai jenis bahan litter terhadap respon fisiologis broiler fase finisher di closed house. J. Ilmiah Peternakan Terpadu. 2 (3) : 81-87.
Dharmawan, R., H. S. Prayogi dan V. M. A. Nugiartiningsih. 2016. Penampilan produksi ayam pedaging yang dipelihara pada lantai atas dan lantai bawah. J. Ilmu – Ilmu Peternakan. 26 (3) : 27 – 37.
Gałęcki, R., M. Dąbrowski, T. Bakuła, K. Obremski, M. Baranowski A. Nowak & B. Gutarowska. 2020. The Influence of the mineral–microbial deodorizing preparation on ammonia emission and growth performance in turkey production. Atmosphere. 11 (7): 1-14.
Henry, B., R. Eckard & K. Beauchemin. 2018. Adaptation of ruminant livestock production systems to climate changes. Anim. 12 (2): 445-456.
Ibrahim, S., & A. Allaily. 2012. Pengaruh berbagai bahan litter terhadap konsentrasi ammonia udara ambient kandang dan performan ayam broiler. J. Agripet. 12(1): 47-51.
Le, N. T. T. 2017. Effect of using litters fermented with micrioorganisms on performance and odor emissions in broiler production. Int. Conf. Anim. Prod. 1: 58-65.
Manin, F., E. Hendalia dan Y. Yusrizal. 2012. Potensi bakteri Bacillus dan Lactobacillus sebagai probiotik untuk mengurangi pencemaran amonia pada kandang unggas. J. Peternakan Indonesia. 14 (2): 360 - 367.
Marang, E. A. F., L. D. Mahfudz, T. A. Sarjana & S. Setyaningrum. 2018. Kualitas dan kadar amonia litter akibat penambahan sinbiotik dalam ransum ayam broiler. J. Peternakan Indonesia. 21 (3): 303-310.
Marlina, E. T., R. L. Balia dan Y. A. Hidayati. 2012. Uji organoleptik daging ayam yang diberi ransum yang mengandung lumpur susu terfermentasi oleh Aspergillus niger. J. Ilmu Ternak. 12(1):20-23.
Metasari, T., D. Septinova & V. Wanniatie. 2014. Pengaruh berbagai jenis bahan litter terhadap kualitas litter broiler fase finisher di closed house. J. Ilmiah Peternakan Terpadu. (2) (3) : 23- 29.
Murwani, S., D. Qosimah & I. A. Amri. 2017. Penyakit Bakterial Pada Ternak Hewan Besar dan Unggas. Universitas Brawijaya Press, Malang.
Najibulloh, M., N. Ulupi & Salundik. 2020. Pengaruh daur ulang litter terhadap kualitas litter dan udara dalam pemeliharaan broiler. J. Livestock and Animal. 18 (2) : 107-115.
Qurniawan, A., I. I. Arief & R. Afnan. 2016. Performans produksi ayam pedaging pada lingkungan pemeliharaan dengan ketinggian yang berbeda di Sulawesi Selatan. J. Veteriner. 17 (4): 622–633.
Rahimi, M. R., Y. A. Alijoo, R. Pirmohammadi & M. Alimirzaei. 2018. Effects of feeding with broiler litter in pellet-form diet on Qizil fattening lambs' performance, nutrient digestibility, blood metabolites and husbandry economics. In Vet. Res.Forum. 9 (3): 245–251.
Saputra, M. R., T. A. Sarjana & S. Kismiati. 2020. Perubahan mikroklimatik amonia dan kondisi litter ayam broiler periode starter akibat panjang kandang yang berbeda. J. Penelitian Ilmu Peternakan. 18 (1): 8-14.
Syamsuryadi, B., R. Afnan., I. I. Arief & D. R. Ekastuti. 2017. Ayam pedaging jantan yang dipelihara di dataran tinggi Sulawesi Selatan produktivitasnya lebih tinggi. J. Veteriner. 18 (1): 160 - 166.
Utama, C.S. & M. Christiyanto. 2021. Chemical and microbiological properties of broiler litter kept at different altitudes. Online J. Anim. Feed Res. 11 (3):88- 94.
Utama C S, B. Sulistiyanto & O. Barus. 2021a. pH, Total bacteria and total fungi litter fermentation at different ripening durations. Jurnal Sain Peternakan Indonesia. 16 (3): 259-265.
Utama, C. S., F. Wahyono & M. F. Haidar. 2021b. Pengaruh perbedaan dataran terhadap profil litter ayam broiler yang dipelihara di kandang closed house. Jurnal Peternakan Indonesia. 23(2): 115-121.
Xu, Y., Stark, C. R., Ferket, P. R., Williams, C. M., Auttawong, S., & Brake, J. 2015. Effects of dietary coarsely ground corn and litter type on broiler live performance, litter characteristics, gastrointestinal tract development, apparent ileal digestibility of energy and nitrogen, and intestinal morphology. Poultry Science. 94 (3) : 353–361. doi:10.3382/ps/peu016
Wahyudi, S. & M. Akbar. 2018. Comparison of appearance of broiler chicken production maintained on different levels in regency of Mojokerto provinsi Jawa Timur. J. Ilmiah Fillia Cendekia, 3 (2): 1-11.
Widodo, N., N. D. Dono, Wihandoyo, Zuprizal, H. Suryani & H. Khasanah. 2021. Pengaruh Pemberian Feed Additive Tepung Binahong (Anredera cordifolia (Ten.) Steenis) terhadap Karakteristik Litter Ayam Broiler. Jurnal Ilmu Ternak. 21(2): 87-93. DOI: 10.24198/jit.v21i2.34819.
DOI:
http://dx.doi.org/10.24014/jupet.v19i2.13111
Refbacks
There are currently no refbacks.
Jurnal Peternakan 
has been accredited by Sinta 3 : Number 158/E/KPT/2021
Starting from Vol. 18 No. 1 Year 2021 to Vol. 22 No. 2 Year 2025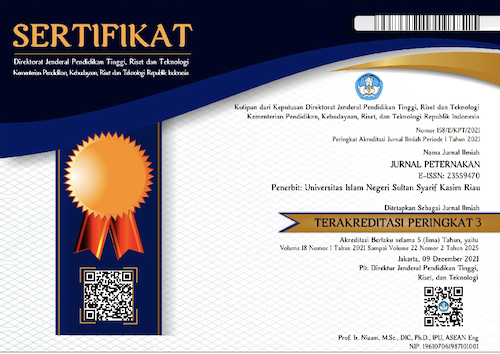 Jurnal Peternakan Indexed By:

Creation is distributed under the 
Creative Commons Attribution 4.0 International License
. 
View Mystats