PENGARUH MARINASI GULA LONTAR CAIR (Borassus flabellifer) PADA DAGING SAPI TERHADAP Ph, SUSUT MASAK DAN DAYA AWET
Abstract
Gula Lontar Cair merupakan produk pengolahan nira lontar yang dapat dimanfaatkan sebagai salah satu bahan pengawet alami melalui metode marinasi pada daging sapi. Salah satu caranya dengan marinasi daging sapi dengan perlakuan berbagai lama waktu. Tujuan penelitian ini untuk mengetahui pengaruh lama waktu marinasi terbaik terhadap pH, susut masak, dan daya awet. Materi yang digunakan penelitian ini yaitu 10 kg daging sapi Peranakan Ongole bagian paha (silverside). Penelitian ini dilaksanakan secara eksperimental dengan menggunakan rancangan acak lengkap (RAL) 5 perlakuan dan 4 ulangan. Perlakuan yang diterapkan yaitu marinasi daging sapi selama 1 hari (P1), 3 hari (P2), 5 hari (P3), 7 hari (P4), 10 hari (P5). Data dianalisis dengan Rancangan Acak Lengkap dilanjutkan dengan uji Duncan's Multiple Range Test (DMRT) untuk mengetahui perlakuan yang terbaik. Hasil analisis ragam menunjukkan bahwa marinasi daging sapi dengan lama waktu marinasi berpengaruh nyata (P<0,05) terhadap pH, susut masak dan daya awet., waktu marinasi yang terbaik adalah 3 hari.
Keywords
Gula Lontar Cair, daging sapi, marinasi
References
Alvarado, C.Z. and S. MC Kee. 2007. Marination to Improve Functional Properties and Safety of Poultry Meat. J. Appl. Poult. Res. 16: 113 – 120.
Buckle, K.A., R.A. Edwards, G.H. Fleet, and M. Wootton. 1985. Ilmu Pangan. Diterjemahan Hari Purnomo A. UI Press: Jakarta
Bulent E., A. Yilmaz, M. Ozcan, C. Kaptan, H. Hanouglu, I. Erdogan, dan H. Yalcintan. 2009. Carcass measurements and meat quality of Turkish Merino, Ramlic, Kivircik, Chios and Imroz lambs raised under an intensive production system 82. 64-70.
Floros. J.D. .V. Gnanasekharan, V. 1993. Shelf Life Prediction of Packaged Foods. Chemical, Biological, Physical And Nutritional Aspects, (G.Charalambous, ed.).Elsevier Publ. London.
Gaspersz Vincent. 2006. Teknik Analisa Dalam Penelitian Percobaan, Jilid 1, Cetakan Ketiga, Penerbit Tarsito, Bandung.
Handayani B.R., Margana C. C. E., Hidayati K.A., Werdiningsih W. 2015. Kajian Waktu Perendaman "Marination" Terhadap Mutu Dendeng Sapi Tradisional Siap Makan. J Teknol dan industri Pangan. 26(1) : 17-25.
Ismail Y.S., Yulvizar C., Sugiarti., Misrahanum. 2015. Pengaruh Marinasi Madu Terhadap Kualitas Mikrobiologis Daging Sapi (Boss sp.) Prosiding Seminar Nasional Biotik. 396-400.
Judge, M. D, E. D. Aberle, J. C.Forrest, H. B. Hedrick, dan R.A. Merkel., 1989. Principles Of Meat Science. 2nd., Kendall/Hunt Publishing Co.Dubuque, Iowa.
Komariah, S. Rahayu , Sarjito. 2009. Sifat fisik Daging Sapi, Kerbau, dan Domba Pada Lama Postmortem yang Berbeda. Bulletin Peternakan. 33(3) 183-189
Lawrie, R.A. 2003. Ilmu Daging. Universitas Indonesia Press. Jakarta.
Naknean P, Meenune M, Roudaut G. 2013. Changes in Properties of Palm Sugar Syrup Produced by An Open Pan and A Vacuum Evaporator During Storage. International Food Research Journal. 20 (5): 2323-2334.
Oguz, E., M.E. Dikeman., J.P. Grobbel., W. Stephens., T.M. Loughin. 2004. Beef, biceps femoris and deep pectoralis Warner-Bratzler shear force is affected differently by endpoint temperature, cooking method and USDA quality grade. Meat Sci. 68:243-248.
Puntodewo, H.S. 1998. Analisis Kualitas Susu dan Daging. Fakultas Kedokteran Hewan Universitas Airlangga. Surabaya. 38-47.
Soeparno. 2009. Ilmu dan Teknologi Daging. Gadjah Mada University Press. Yogyakarta.
Standar Nasional Indonesia (SNI 06-6989.11-2004). Cara Uji Derajat Keasaman (pH) dengan Menggunakan Alat pH Meter. Standar Nasional Indonesia (SNI). Badan Standardisasi Nasional (BSN).
DOI:
http://dx.doi.org/10.24014/jupet.v18i1.7761
Refbacks
There are currently no refbacks.
Jurnal Peternakan 
has been accredited by Sinta 3 : Number 158/E/KPT/2021
Starting from Vol. 18 No. 1 Year 2021 to Vol. 22 No. 2 Year 2025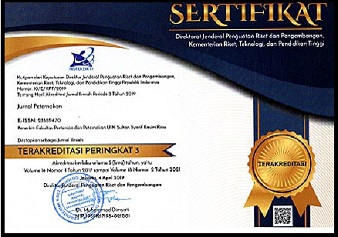 Jurnal Peternakan Indexed By:
Creation is distributed under the 
Creative Commons Attribution 4.0 International License
.
View Mystats