TINGKAH LAKU AYAM KUB PADA PERBIBITAN AYAM KUB DI KABUPATEN SIGI, PROVINSI SULAWESI TENGAH
Abstract
Ayam kampung adalah salah satu ternak yang dipelihara oleh masyarakat desa secara umum karena sistem pemeliharaan tidak terlalu memerlukan input yang besar seperti ayam ras, memiliki kemampuan adaptasi lingkungan yang baik sehingga banyak dipelihara masyarakat pedesaan di Indonesia. Bahkan dibeberapa tempat di pedesaan sistem pemeliharaanya zero input. Informasi tentang tingkah laku ayam KUB yang dipelihara secara intensif dalam kandang maupun secara bebas masih sangat minim, sehingga diperlukan sebuah kajian tentang tingkah laku ayam KUB agar dapat berproduksi maksimal. Tingkah laku dapat merepresentasikan kondisi fisiologis, perasaan serta respon unggas terhadap perubahan kondisi lingkungan sekitarnya. Kajian ini dilaksanakan di salah satu lokasi diseminasi pengembangan Ayam KUB di Kabupaten Sigi, Provinsi Sulawesi Tengah. Kajian menggunakan metode one zero sampling, pengamatan dilakukan pagi hari (07.00-08.00 WITA) dan sore (16.00-17.00 WITA) selama 7 hari. Populasi ayam KUB yang digunakan dalam kajian ini sebanyak 5 ekor Jantan dan 25 ekor Betina berumur 18 minggu. Hasil pengamatan menunjukkan aktivitas tertinggi pada pagi hari berturut-turut adalah; aktivitas makan (10%), minum (9,9%), bertengger (9,2%), groming (9,2%) lokomosi (7,8%), agonistik (1,7%), kawin (1,4%), eliminasi (1,1) dan istirahat (1,1%), sedangkan aktivitas tertinggi pada sore hari adalah makan (11,8%), minum (9,9%), grooming (8,6%), lokomosi (7,8%), bertengger (7,0%), agonistik (1,3%), eliminasi (0,8%), istirahat (0,8%) dan kawin (0,6%). Disimpulkan bahwa tingkah laku ayam KUB umur 18 minggu secara keseluruhan masih dalam batas normal demi memenuhi tingkat kesejahterannya untuk persiapan berproduksi secara maksimal.
Kata kunci : Tingkah Laku, Ayam KUB,  one zero sampling.
Keywords
Tingkah Laku, Ayam KUB, one zero sampling.
DOI:
http://dx.doi.org/10.24014/jupet.v16i2.7232
Refbacks
There are currently no refbacks.
Jurnal Peternakan 
has been accredited by Sinta 3 : Number 158/E/KPT/2021
Starting from Vol. 18 No. 1 Year 2021 to Vol. 22 No. 2 Year 2025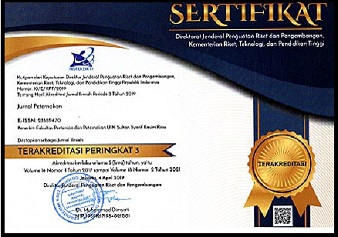 Jurnal Peternakan Indexed By:
Creation is distributed under the 
Creative Commons Attribution 4.0 International License
.
View Mystats