PENGARUH KOMBINASI TEPUNG ROTI AFKIR DAN TEPUNG KULIT MANGGIS SEBAGAI SUBSTITUSI JAGUNG DALAM RANSUM ITIK CIHATEUP TERHADAP PERFORMAN PERTUMBUHAN DAN INCOME OVER FEED COST
Abstract
Tujuan penelitian ini untuk mengkaji pengaruh level penggunaan tepung roti afkir (TRA) dan tepung kulit manggis (TKM) sebagai substitusi jagung terhadap performan pertumbuhan dan income over feed cost (IOFC) itik Ciahteup. Sebanyak 84 ekor itik Cihateup dibagi secara acak ke dalam 7 kelompok perlakuan pakan yaitu: pakan tanpa perlakuan TRA dan TKM (R0), Pakan dengan penambahan TRA 10% pengganti jagung + 1% TKM (R1A), pakan dengan penambahan TRA 10% pengganti jagung + 2% TKM (R1B), pakan dengan penambahan TRA 20% pengganti jagung + 1% TKM (R2A), pakan dengan penambahan TRA 20% pengganti jagung + 2% TKM (R2B), pakan dengan penambahan TRA 30% pengganti jagung + 1% TKM (R3A) dan pakan dengan penambahan TRA 30% pengganti jagung + 2% TKM (R3B). Variabel yang diamati yaitu bobot badan akhir, pertambahan bobot badan, konsumsi pakan, konversi pakan dan IOFC. Penelitian menggunakan rancangan acak lengkap, apabila berbeda nyata diuji lanjut dengan metode Duncan. Hasil penelitian menunjukkan bahwa perlakuan pakan berpengaruh nyata (P<0.05) terhadap bobot badan akhir, pertambahan bobot badan dan IOFC. Perlakuan R2B yang mengandung 20% TRA dan 1% TKM memiliki performan pertumbuhan yang mendekati perlakuan kontrol. Adapun perlakuan R3A yang mengandung 30% TRA menghasilkan nilai IOFC yang lebih rendah dibandingkan perlakuan lainnya. Dengan demikian, pemberian 20% TRA dan 2.0% TKM direkomendasikan untuk memperbaiki performan pertumbuhan dan pemberian 30% TRA dapat diaplikasikan untuk menurunkan nilai IOFC.
Keywords
IOFC; Cihateup duck; performance; mangosteen peel; rejected bread
References
DAFTAR PUSTAKA
Chalimi, K., A.Rochim, E.Purbowati, Soedarsono, E.Rianto, dan A.Purnomoadi. 2010. Kelayakan roti sisa pasar sebagai pakan alternatif berdasar pemanfaatan kecernaan energi dan parameter darah pada sapi Peranakan Ongole. Prosiding Semnas Teknologi Peternakan dan Veteriner: 100-106.
Gaol, E.L.S., S. Lisnawaty, dan Y.Iis. 2015. Substitusi Ransum Jadi dengan Roti Afkir Terhadap Performa Burung Puyuh (Coturnix coturnix japonica) Umur Starter Sampai Awal Bertelur. Junal Ilmu Hewani Tropika. 4 (2): 61-65.
Hidayatullah,M.F., H.I.Djunaidi dan H. Natsir. 2016. Efek Penggunaan Tepung Limbah Roti Tawar sebagai Pengganti Jagung terhadap Penampilan Produksi Itik Hibrida.Jurnal Universitas Brawijaya: 1-7.
Kouhkan, M.R., H. Kermanshahi and F. Eftekhari. 2003. The effect of natural zeolite and bakery waste on performance and serum parameters of broiler chickens. In: Annual Meeting of the British Society of Animal Science, York. p. 178.
Kusmayadi, A.,K.R. Bachtiar dan C.H. Prayitno. 2019. The effects of mangosteen peel (Garcinia mangostana L.) and Turmeric (Curcuma domestica Val) flour dietary supplementation on the growth performance, lipid profile, and abdominal fat content in Cihateup ducks. Veterinary World. 12(3):402-408.
Oke, O.S. 2013. Utilization of Bread Waste Meal as Replacement for Maize in Diets for Broiler Chickens. Journal of Poverty, Investment and Development. 1: 71-75.
Palapol, Y., S. Ketsa, D.Stevenson, J.M. Cooney, A.C. Allan and Ferguson, I.B. 2009. Colour development and quality of mangosteen (Garcinia mangostana L.) fruit during ripening and after harvest. Postharvest Biology and Technology. 51(3):349–353.
Parakkasi, A. 1990. Ilmu Gizi dan Makanan Ternak Monogastrik. Penerbit Angkasa. Bandung.
Rasyaf, M. 2005. Beternak Ayam Petelur. Cetakan ke XX. Penebar Swadaya. Jakarta.
Toghyani, M., M.Toghyani, A.Gheisari, G. Ghalamkari, and M. Mohammadrezaei 2010. Growth performance, serum biochemistry and blood hematology of broiler chicks fed different levels of black seed (Nigella sativa) and peppermint (Mentha piperita). Livestock Science. 129(1):173–178.
Widjastuti, T. dan E. Sujana. 2009. Pemanfaatan tepung limbah roti dalam ransum ayam broiler dan implikasinya terhadap efisiensi ransum dan IOFC. Prosiding Seminar Nasional Fakultas Peternakan Unpad: 558-562.
Winarti, E. 2017. Pengaruh Penggunaan Roti Afkir sebagai Pengganti Bekatul dan Gaplek dalam Konsentrat Sapi Perah terhadap Produksi Susu. Prosiding Seminar Nasional Teknologi Peternakan dan Veteriner: 147-151.
DOI:
http://dx.doi.org/10.24014/jupet.v16i2.7000
Refbacks
There are currently no refbacks.
Jurnal Peternakan 
has been accredited by Sinta 3 : Number 158/E/KPT/2021
Starting from Vol. 18 No. 1 Year 2021 to Vol. 22 No. 2 Year 2025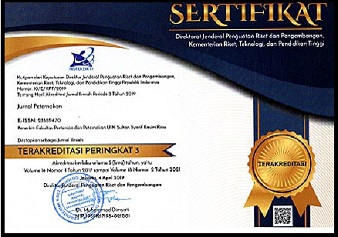 Jurnal Peternakan Indexed By:
Creation is distributed under the 
Creative Commons Attribution 4.0 International License
.
View Mystats