Penurunan Jumlah Bakteri Staphylococcus aureus pada Susu Kambing Peranakan Etawa setelah Teat Dipping dalam Dekok Daun Pepaya (Carica papaya L.)
Abstract
ABSTRAK. Penggunaan dekok daun pepaya (Carica papaya L.) sebagai antiseptik alami untuk teat dipping adalah salah satu cara yang dapat dilakukan untuk mencegah mastitis pada ternak kambing Peranakan Etawa (PE). Dekok daun pepaya mengandung alkaloid, triterpenoid, steroid, flavonoid, saponin dan tannin yang bersifat sebagai anti bakteri dan anti radang alami, sehingga mampu menekan pertumbuhan bakteri S. aureus yang merupakan bakteri utama penyebab mastitis pada ternak kambing PE. Penelitian ini menggunakan Rancangan Acak Lengkap (RAL) dengan 4 perlakuan dan 4 ulangan. Ulangan dalam penelitian berupa 16 ekor kambing PE laktasi yang diambil susunya sebagai sampel. Perlakuan dalam penelitian terdiri dari P0= Povidone Iodine 10%, P1= Dekok Daun Pepaya 30%, P2= Dekok Daun Pepaya 50% dan P3= Dekok Daun Pepaya 70%. Parameter penelitian meliputi nilai pH, Total Plate Count (TPC) dan jumlah bakteri S. auerus pada sampel susu kambing PE yang diamati.  Hasil penelitian menunjukkan penggunaan dekok daun pepaya berpengaruh sangat nyata (P<0,01) dalam mempertahankan nilai pH (6,49 – 6,57), menurunkan nilai TPC (1,794 x 106 – 0,034 x 106) dan nilai jumlah koloni bakteri S. aureus (0,70 x 102 – 0,67 x 102) pada sampel susu kambing PE yang diteliti. Kesimpulan penelitian adalah penggunaan dekok daun pepaya 70% (P3) sebagai larutan teat dipping merupakan perlakuan dengan konsentrasi terbaik yang memiliki efektivitas yang sama dengan povidone iodine 10%.
Decreased Amount of Staphylococcus aureus in Etawa Crossbreed Goat Milk after Teat Dipping in Papaya Leaf Dekok (Carica papaya L.)
ABSTRACT. The using of papaya leaf dekok (Carica papaya L.) as a natural disinfectant for teat dipping is the one of methods that can be done to prevent mastitis in Etawa crossbreed goat. Papaya leaf dekok contains alkaloids, triterpenoids, steroids, flavonoids, saponins and tannins that act as natural antibacterial and anti-inflammatory, so as to suppress the growth of Staphylococcus aureus which is the major bacteria that trigger udder inflammation (mastitis) for Etawa crossbreed goat. This study used a completely randomized design (CRD) with four processes and four replicas. The replication in this study were 16 lactating Etawa crossbreed goat and their milk was taken as a sample. The treatment of this study consisted of P0= 10% povidone iodine, P1= 30% papaya leaf dekok, P2= 50% papaya leaf dekok and P3= 70% papaya leaf dekok. The parameter of study are pH value, total plate count (TPC) and the number of S. aureus in the Etawa crossbreed goat milk sample. The study showed that the use of papaya leaf dekok was not very significantly different (P>0,01) to maintain the values of pH (6,49 – 6,57), decrease the levels of TPC (1,794 x 106 – 0,034 x 106) and S. auerus colony (2,70 x 102 – 0,67 x 102) in the Etawa crossbreed goat milk sample. The conclusion of this study is that the use of papaya leaf dekok 70% (P3) as a teat dipping liquid is the best concentration treatment that has the same effect as 10% povidone iodine.
Keywords
Dekok daun pepaya, kambing PE, mastitis, s. aureus, teat dipping
References
A'yun, Q. & A.N. Laily. 2015. Analisisi Fitokimia Daun Pepaya (Carica papaya L.) di Balai Penelitian Tanaman Aneka Kacang dan Umbi, Kendalpayak, Malang. Seminar Nasional Konservasi dan Pemanfaatan Sumber Daya Alam 2015, SP003 – 020.
Albenzio, M. & A. Santilo. 2011. Biochemical Characteristic of Ewe and Goat Milk: Effect on the Quality of Dairy Products. Small Ruminant Research, 101: 33-40.
Karlina, C.Y., M. Ibrahim & G. Trimulyono. 2013. Aktivitas Antibakteri Ekstrak Herba Krokot (Portulaca oleracea L.) terhadap Staphylococcus aureus dan Escherichia coli. E Journal UNESA Lentera-Bio, 2(1): 87-93.
Kurniawan, I., P. Sarwiyono & Surjowardojo. 2013. Pengaruh Teat Dipping Menggunakan Dekok Daun Kersen (Muntingia calibura L.) terhadap Tingkat Kejadian Mastitis. Jurnal Ilmu-ilmu Peternakan, 23: 27-31.
Muhammad, I., A. Rusgiyono & M.A. Mukid. 2014. Penilaian Cara Mengajar Menggunakan Rancangan Acak Lengkap. Jurnal Gaussian, 3(2): 183-192.
Nickerson, S. 2013. Choosing the best teat dip for mastitis control and milk quality. Hill Farm Reseacrh Station. Thesis. Louisiana State Univesity Agricultural Center. Homer, Loisiana.
Priono, A., E. Kusumanti & D.W. Harjanti. 2016. Jumlah Bakteri Staphylococcus aureus dan Skor California Mastitis Test (CMT) pada Susu Kambing Peranakan Etawa Akibat Dipping Ekstrak Daun Babadotan (Ageratum conyzoides L.). Jurnal Ilmu-Ilmu Peternakan, 26 (1): 52-57
Sasongko, D.A., T.H. Suprayogi & S.M. Sayuthi. 2012. Pengaruh Berbagai Konsentrasi Larutan Kaporit (CaHOCl) untuk Dipping Puting Susu Kambing Perah terhadap Total Bakteri dan Ph Susu. Journal of Animal Agriculture, 1(2): 93-99.
Siregar, A.Z. 2010. Pengaruh Teat Dipping Sari Buah Mengkudu (Morinda citrifolia L.) terhadap Kasus Mastitis Subklinis pada Sapi Perah Berdasarkan Pemeriksaan Total Plate Count. http://www.fkh. unair.ac.id/artikel1 /2010/ ARTIKEL%20ILMIAH % 20A.pdf. Diakses: Maret 2020.
Standar Nasional Indonesia 3141.1:2011. Batas Maksimum Cemaran Mikroba dan Batas Maksimum Residu dalam Bahan Makanan Asal Hewan. Badan Standarisasi Nasional.
Suwito, W., A.E.T.H. Wahyuni., W.S. Nugroho & B. Sumiarto. 2013. Isolasi dan Identifikasi Bakteri Mastitis pada Kambing Peranakan Ettawah. Jurnal Sain Veteriner, 1(31): 49-54.
Suwito, W. & S. Indarjulianto. 2013. Staphylococcus aureus Penyebab Mastitis pada Kambing Peranakan Etawah: Epidemiologi, Sifat Klinis, Patogenesis, Diagnosis dan Pengendalian. WARTAZOA, 23(1).
Tuntun, M. 2016. Uji Efektivitas Ekstrak Daun Pepaya (Carica papaya L.) terhadap Pertumbuhan Bakteri Escherichia coli dan Staphylococcus aureus. Jurnal Kesehatan, 8(3): 497-502.
DOI:
http://dx.doi.org/10.24014/jupet.v18i1.11820
Refbacks
There are currently no refbacks.
Jurnal Peternakan 
has been accredited by Sinta 3 : Number 158/E/KPT/2021
Starting from Vol. 18 No. 1 Year 2021 to Vol. 22 No. 2 Year 2025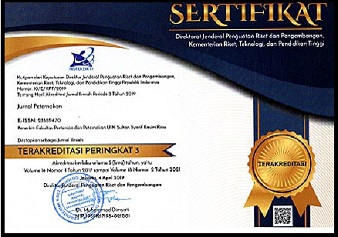 Jurnal Peternakan Indexed By:
Creation is distributed under the 
Creative Commons Attribution 4.0 International License
.
View Mystats