Komunikasiana: Journal of Communication Studies Print ISSN 2654-4695 | Online ISSN 2654-7651 is an academic journal published by Dakwah and Communication Faculty of UIN Sultan Syarif Kasim Riau. This journal publishes the results of research on communication studies: Media, Journalism, Public Relations, Broadcasting, Corporate Social Responsibilty (CSR), Marketing Communication, Organizational Communication, Political Communication, Cross Culture Communication, Information Communication Technology (ICT), Health Communication, Disaster Communication, New Media.
Komunikasiana: Journal of Communication Studies is an open-access journal, published twice a year (June and December). Articles can be written in Indonesian or English.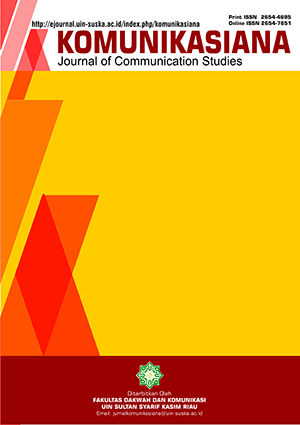 Announcements
Call for Manuscript

Komunikasiana: Journal of Communication Studies menerima naskah untuk diterbitkan pada Vol 4, No.1, Juni 2022. Proses pengiriman naskah melalui OJS dengan mengikuti Template dan Author Guidelines. Semua naskah yang masuk akan melalui proses double blind review dan penyuntingan oleh dewan editor.

Posted: 2022-03-03
More...
Vol 3, No 2 (2021)
Table of Contents
Articles