Performa Anak Hasil Persilangan antara Induk Sapi PO dengan Bangsa Pejantan yang Berbeda di Wilayah Inseminasi Buatan (IB) di Kecamatan Terbanggi Besar Kabupaten Lampung Tengah
Abstract
The research investigates to know performance of calf from Crossing between Peranakan Ongole (PO) dams with some of the bull at one years age. Located of research in Terbanggi Besar District, Central Lampung Regency. This research was doing in May until August 2018. Material of research are 30 head PO Cattle, 30 head Simmental><PO; 30 head Limousin><PO. Variable of research are body length, shoulder height, chest circumference and body weight. Qualitatif performance variables are colour of skin, type of head, type of face, hump, hides cattle, and horn type. Qualitative data analyzed by descriptive analysis, and quantitative data analyzed by t-test. The result of research showing calf qualitative performance has different in every bull. Body weight of cattle for each are PO cattle (248,36± 24,89kg); calf from Simmental><PO cattle (257,08± 27,88kg) and it's showing significant different (P<0.05); calf from Limousin><PO cattle (252,25± 32,51kg). The body measurment for each cattle showing variation.
Keywords
Bull, calf performance, Peranakan Ongole cattle, Central Lampung
References
Chamdi, A. N. 2005. Kajian Profil Sosial Ekonomi Usaha Kambing di Kecamatan Kradenan Kabupaten Grobogan. Prosiding Seminar Nasional Teknologi Peternakan dan Veteriner. Bogor 29-30 September 2003. Puslitbang Peternakan/Departemen Pertanian. Bogor.
Depison. 2010. Performans anak hasil persilangan induk sapi Bali dengan beberapa bangsa pejantan di kabupaten Batanghari Provinsi Jambi. Jurnal Agripet. 8(1): 37-41.
Djarwanto. 1998. Statistik Induktif. Edisi keempat. BPFE. Yogyakarta.
Hamdani, M. D. I. 2013. Hubungan antara Berat badan Sapi Betina PO dan sapi Persilangan pada tingkatan umur yang berbeda terhadap ukuran dan karakteristik ovariumnya. Jurnal Ilmu Peternakan Terpadu. 2(3): 79-85.
Hamdani, M. D. I., K. Adhianto, Sulastri, A. Husni, & R. Sari. 2017. Ukuran-ukuran tubuh sapi Krui jantan dan betina di Kabupaten Pesisir Barat, Lampung. Jurnal Ilmu Ternak. 17(2): 99- 105.
Hamdani, M. D. I., A. Husni, & A. Setyawan. 2018. Performa kuantitatif sapi Peranakan Ongole pascasapih di Sentra Peternakan Rakyat Maju Sejahtera Kabupaten Lampung Selatan. Jurnal Peternakan. 15(2): 68-73.
Hardjosubroto, W. 1994. Aplikasi Pemuliabiakan Ternak di Lapangan. PT. Grasindo. Jakarta.
Lana, K., Artika, & I.M. Nitis, 1983. Pengaruh konsentrat terhadap dimensi tubuh serta korelasinya dengan berat badan sapi Bali jantan kebiri yang dibandingkan. Prosiding Pertemuan Ilmiah Ruminansia Besar P4 dan B3 Departemen Pertanian Bogor. Bogor.
Ludy, K., Kristianto, & M. B. Nappu, 2004. Prospek pengembangan sapi potong melalui pola pengembangan sapi potong melalui penggembalaan kolektif dalam upaya swasembada daging sapi di Kalimantan Timur, Lokakarya Nasional Sapi Potong. Balai Pengkajian Teknologi Pertanian Kalimantan Timur.
Priyanti, A., T. Sudjana, S. W. Handayani, & P. J. Ludgate. 1988. Karakteristik peternak berpenampilan tatalaksana tinggi dan rendah dalam usaha ternak domba/kambing di Kabupaten Bogor, Jawa Barat. Prosiding Pertemuan Ilmiah Ruminansia. Jilid 2. Pusat Penelitian dan Pengembangan Peternakan. Badan Penelitian dan Pengembangan Pertanian. Departemen Pertanian. Bogor. Hal 7-11.
Siegel, S. 1994. Statistik Non Parametrik untuk Ilmu- ilmu Sosial. PT. Gramedia Pustaka Utama, Jakarta.
Sulastri, & Dakhlan. 2002. Dasar Pemuliaan Ternak. Buku Ajar Jurusan Peternakan UNILA : Bandar Lampung.
Sumadi, & Siliwolu. 2004. Penelitian mutu genetik sapi Ongole dan Brahman di kabupaten Sumba Timur, Nusa Tenggara Timur. Lokakarya Nasional sapi Potong, Jakarta: 31-41.
Thalib, C. K. Entwistle, A. Siregar, S. Budiarti-Turn- er, & D. Lindsay. 2003. Survey of Population and Production Dynamics Of Bali Cattle and Exixting Breeding Program In Indone- sia. In: K. Entwistle and D.R. Lindsay (eds), Strategies to Improve Bali Cattle in Eastern Indonesia. ACIAR Proc. No 10: 3-9.
Williams, I. H. 1982. Growth and Energy. Dalam: A Course Manual in Nutrition and Growth. H. L. Davies (Ed.). Australian Vice-Chancellors' Committee. AUIDP, Hedges and Bell Pty Ltd. Melbourne.
DOI:
http://dx.doi.org/10.24014/jupet.v17i2.9279
Refbacks
There are currently no refbacks.
Jurnal Peternakan 
has been accredited by Sinta 3 : Number 158/E/KPT/2021
Starting from Vol. 18 No. 1 Year 2021 to Vol. 22 No. 2 Year 2025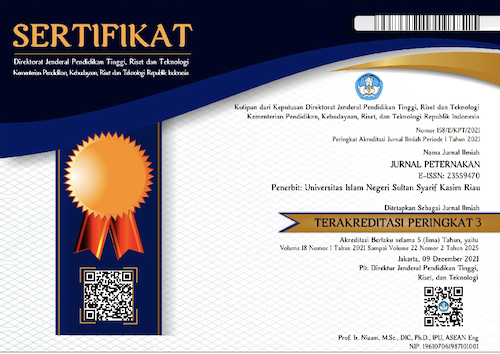 Jurnal Peternakan Indexed By:

Creation is distributed under the 
Creative Commons Attribution 4.0 International License
. 
View Mystats