Analisis Kepuasan Peternak Plasma terhadap Kinerja Kemitraan Ayam Pedaging di Kabupaten Kampar Provinsi Riau
Abstract
The plasma farmer assessment of the company is very important in supporting the sustainability of the partnership relationship. The index of satisfaction is the difference between perceived performance and expectations. The purpose of this study is the evaluation and analysis of chicken business and the measurement of the Customer Satisfactory Indexs (SCI) of plasma farmers in partnership in Kampar Regency, Riau Province. This research is a descriptive study using survey research methods on plasma farmers who partner with poultry companies. It consists of 30 plasma farmers in partnership with foreign capital companies, 10 plasma farmers in partnership with multi-national companies and 6 plasma farmers in partnership with local companies, which were taken by purposive sampling design. Likert scale is used to describe the characteristics of farmers, business characteristics and variable indexes of satisfaction with company performance. The dominant characteristics of broiler partnership plasma farmers in Kampar Regency were: successful broiler farming > 4 years, have partnered for > 2 years, the reason for partnering to want a client, get sources of information directly from the partnership company, chicken farming age 35-36 days with harvest weight 1.7-1.8 kg and mortality <3%. The conclusion of this study is the Customer Satisfaction Index (CSI) of foreign capital company partnership services of 73.38% (satisfied), multi-national company partnerships of 74.08% (satisfied). While local company partnerships had a CSI of 57.66% or neutral/ ordinary criteria.
Keywords
Customer satisfaction index, partnership, plasma farmer characteristic.
References
Arum, K. T, E. R. Cahyadi, & A. Basith. 2017. Evaluasi kinerja peternak mitra ayam ras pedaging. Jurnal Ilmu Produksi dan Teknologi Hasil Peternakan. 5(2) : 78-83.
Bowo, H. T. 2017. Analisis usaha peternakan ayam ras pedaging dengan pola kemitraan inti plasma (Studi kasus : Peternakan Andi Saputra Kec. Tambang, Kampar). Skripsi. Fakultas Pertanian dan Peternakan. UIN Sultan Syarif Kasim Riau. Pekanbaru.
Direktorat Jenderal Peternakan dan Kesehatan Hewan (Ditjen PKH) Kementerian Pertanian RI. 2018. Statistik Peternakan dan Kesehatan Hewan. https://ditjenpkh.pertanian.go.id. Jakarta. Diakses pada 03 Februari 2020.
Dewi, P., D. Soejono, & J. M. M. Aji. 2014. Evaluasi kemitraan usaha ayam ras pedaging di Desa Sidomulyo Kecamatan Silo Kabupaten Jember. Berkala Ilmiah Pertanian. 1(1) : 1-9.
Dwiwinarsih, R. 2009. Analisis Tingkat Kepuasan Konsumen terhadap Pelayanan Bakmi Aisy di Depok. Skripsi. Fakultas Ekonomi. Universitas Gunadarma. Depok. Jawa Barat.
Fitriza, Y. T., F. T. Haryadi, & S. P. Syahlani. 2012. Analisis pendapatan dan persepsi peternak plasma terhadap kontrak perjanjian pola kemitraan ayam pedaging di Provinsi Lampung. Buletin Peternakan. 36(1) : 57-65.
Kusumah, M. 2008. Analisis Tingkat Kepuasan Peternak Plasma terhadap Pola Kemitraan Tunas Mekar Farm di Kecamatan Nanggung, Kabupaten Bogor. Skripsi. Program Studi Sosial Ekonomi Peternakan. Fakultas Peternakan. Institut Pertanian Bogor. Bogor.
Lestari, M. 2009. Analisis Pendapatan dan Tingkat Kepuasan Peternak Plasma terhadap Pelaksanaan Kemitraan Ayam Broiler Kemitraan PT X di Yogyakarta. Skripsi. Departemen Agribisnis Fakultas Ekonomi dan Manajemen. Institut Pertanian Bogor. Bogor.
Nahraeni, W., S. Masithoh, & I. Maesarah. 2016. Persepsi Peternak Ayam Pedaging (Broiler) terhadap Kemitraan di Kabupaten Bekasi Provinsi Jawa Barat. Jurnal AgribiSains. 2(2) : 40-51.
Oliver. 1996. Satisfaction: A Behavioral Perpective on The Consumer. The Mc Graw Hill Companies, Inc. New York.
Sumarwan, U. 2003. Perilaku Konsumen Teori dan Penerapan dalam Pemasaran. PT. Ghalia Indonesia. Jakarta.
Yudhabaskara, R. N. 2017. Analisa Tingkat Kepuasan Kemitraan Peternak Plasma terhadap Pelayanan Perusahaan Inti (Kasus di Peternak Mitra Duta Technovet). Skripsi. Departemen Agribisnis. Fakultas Ekonomi dan Manajemen. Institut Pertanian Bogor. Bogor.
DOI:
http://dx.doi.org/10.24014/jupet.v17i2.8819
Refbacks
There are currently no refbacks.
Jurnal Peternakan 
has been accredited by Sinta 3 : Number 158/E/KPT/2021
Starting from Vol. 18 No. 1 Year 2021 to Vol. 22 No. 2 Year 2025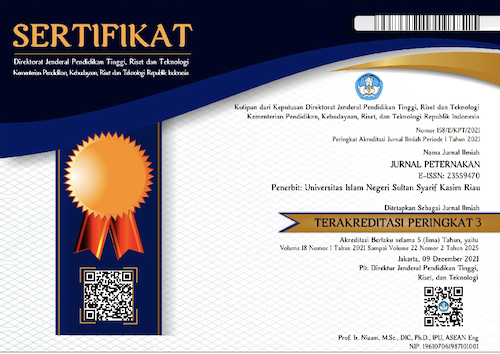 Jurnal Peternakan Indexed By:

Creation is distributed under the 
Creative Commons Attribution 4.0 International License
. 
View Mystats