Pengaruh Pemanfaatan Campuran Limbah Buah Durian dan Ampas Tahu Hasil Fermentasi dengan Pleurotus ostreatus dalam Ransum terhadap Performans Broiler
Abstract
This study was conducted to determine the effect of fermented of Durian Waste and Tofu Waste (DWTW) mixture with Pleurotus ostreatus in rations on broiler performance. The material used in this study was 100 DOC broiler strain Arbor Acres (AA) CP-707. This study was designed using a completely randomized design consisting of 5 treatments and 4 replications in which each flock consisting of 5 chickens. The treatments were inclusion the levels of DWTW in rations, namely, 0, 6, 12, 18 and 24%. The observed variables included feed consumption, body weight gain, and feed conversion ratio. The results of this study indicated that the using of DWTW in broiler ration did not significant effect (P>0.05) on feed consumption, body weight gain and feed conversion ratio. In conclusion, DWTW can be utilized up to 24% in broiler rations. In this condition, average feed consumption, body weight gain, and feed conversion 57.34 g/chicken/day, 36.55 g/chicken/day and 1.57 respectively.
Keywords
Broiler performance, durian waste, Pleurotus ostreatus, rations, tofu waste.
References
Alarcon, J., S. Aquila, P. A Avila, O. Fuentes, E. Z Ponce, & M. Hernandes. 2003. Production and purification of sttins from Pleurotus ostreatus (Basidiomycetes) strains. Z. Naturforsh. 58 : 62-68.
Amrullah, I. K. 2003. Nutrisi Ayam Broiler. Cetakan Pertama. Lembaga Satu Gunung Budi. Bogor.
Direktorat Jenderal Hortikultura. 2017. Produksi durian menurut Provinsi 2013-2017. http//:www.pertanian.go.id/Data5tahun/ HortiATAP2017(.pdf)/Produksi%20Durian. pdf. Diakses tanggal 14 Februari 2019.
Hatakka, A. 2001.Biodegradation of lignin. In: Steinbuchel A. [ed] Biopolymers. Vol 1: Lignin, Humic Substances and Coal. Germany: Wiley VCH., pp. 129-180.
Hidayanto, A. P. 2017. Modul Mata Kuliah Teknologi Fermentasi. Program Studi Bioteknologi. Universitas Esa Unggul. Jakarta.
Jurnal Peternakan
Hsu, J. C., L. I.Chen, & B. Yu. 2000. Effect of levels of crude fiber on growth performances and intestinal carbohydrase of domestic gosling. Asian-Aust. J. Anim. Sci. 13(10) : 1450-1455.
Ichwan, 2003. Membuat Pakan Ras Pedaging. Agro Media Pustaka. Tangerang.
Jull, M. A. 1982. Poultry Husbandry. Third Edition. Mc Graw Hill Book Company, Inc. New York.
Khuzaemah, S. 2005. Pengaruh Aras Serat Kasar Ransum terhadap Kecernaan Serat kasar, Protein Kasar dan Energi Metabolis pada Itik Tegal Jantan. Skripsi. Fakultas Peternakan Universitas Diponegoro, Semarang.
Laelasari. & T. Purwadaria. 2004. Pengkajian nilai gizi hasil fermentasi mutan Aspergillus niger pada substrat bungkil kelapa dan bungkil inti sawit. Biodiversitas. 5(2) : 48-51.
Laoli, V. Y. 2019. Peningkatan Kualitas Campuran Limbah Buah Durian dan Ampas Tahu Fermentasi dengan Pleurotus ostreatus dan Aplikasinya dalam Ransum Broiler. Tesis. Pascasarjana Fakultas Peternakan. Universitas Andalas, Padang
Leeson, S. & J. D. Summers. 2001. Nutrition of The Chicken. 4th Ed. University Books. Guelph, Ontario, Canada.
Mahfudz, L. D., W. Sarengat, D. S. Prayitno, & U. Atmomarsono. 2004. Ampas tahu yang difermentasi dengan laru oncom sebagai pakan ayam ras pedaging. Dalam: Seminar Nasional Kebangkitan Teknologi Peternakan dan Veteriner. Fakultas Peternakan. Universitas Diponegoro. hal. 479-485.
Mangisah, I. & M. H. Nasoetion. 2006. Peranan dan Pengaruh Serat Kasar terhadap Ukuran Sekum, Produksi dan Absorbsi Volatile Fatty Acid (VFA) pada Pemberdayaan Peternakan Berbasis Sumber Daya Lokal untuk Ketahanan Pangan Nasional Berkelanjutan 693 Itik Tegal. Laporan Penelitian Dosen Muda. Fakultas Peternakan Universitas Diponegoro, Semarang.
Murugesan, G. S., M. Sathishkumar, & K. Swarninathan. 2005. Suplementation of waste tea fungal biomass as a dietary ingredient for broiler chiken. Bioresource Technology 96 : 1743-1748.
Nuraini & A. Djulardi. 2019. Peningkatan Kualitas Limbah Buah Durian melalui Fermentasi untuk Unggas. Buku (unpublised).
Nuraini & M. E. Mahata. 1998. Pemanfaatan biji durian (Durio zibethinus) sebagai pengganti jagung dalam ransum broiler. Lembaga Penelitian. Universitas Andalas. Padang.
Pond, W. G. D. C. Church, & K. R. Pond. 1995. Basic animal nutrition and feeding 4th ed. Jhon Wiley.And Soninc, Canada.
Rasyaf, M. 2004. Beternak Ayam Pedaging. Penebar Swadaya, Jakarta.
Rasyaf, M. 2011. Panduan Beternak Ayam Pedaging. Cetakan ke-4. Penebar Swadaya. Jakarta
Rizal, Y. 2006. Ilmu Nutrisi Unggas. Andalas University Press. Padang.
Scott, M. L., M. C. Nasheim, & R. J. Young. 1982. Nutrition of The Chicken 3rd Ed. Publishing. M. C. Scott and Associates. Ithaca, New York.
Shaba., A. M. & J. Baba. 2012. Screening of Pleurotus ostreatus and Gleophylum septarium strain for extracellular protease enzim production. Bayero Journal of Pure and Applied Science. 5 : 1.
Siri, S., H. Tabioka, & I. Tasaki. 1992. Effect of dietary fibre on utilization of energy and protein in chickens. Poult. Sci. J. 29 : 23-28.
Steel, R. G. & J. H. Torrie. 1991. Prinsip dan Prosedur Statistika Suatu Pendekatan Biometrik. Ed 2 cet 2, Alih Bahasa oleh Bambang Sumantri. Gramedia Pustaka Utama. Jakarta.
Sudiana, I. M. & M. Rahmansyah. 2002. Aktivitas amilase dan selulase jamur tiram putih yang ditumbuhkan pada medium ampas aren dan serbuk gergaji kayu. Jurnal Mikrobiologi Indonesia, 7 : 7-10.
Sutardi, T. 1997. Peluang dan Tantangan Pengembangan Ilmu-ilmu Nutrisi Ternak. Orasi Ilmiah Guru Besar Tetap Ilmu Nutrisi Ternak, Fakultas Peternakan Institut Pertanian Bogor, Bogor.
Trisnadjaya, D. & M. A. Subroto. 1996. Analisis ekonomi untuk komersialisasi proses fermentasi. Warta Biotek. 10(3) : 1-12.
Untung, O. 2008. Durian untuk Kebun Komersial dan Hobi. Penebar Swadaya. Jakarta.
Wahju, J. 1997. Ilmu Nutrisi Unggas. Cetakan ke-4. Gajah Mada University Press. Yogyakarta.
Wahyuni, H. I., I. Mangisah., & N. Suthama. 2008. Pengaruh Pakan Berserat Tinggi dan Probiotik dalam Ransum terhadap Pertumbuhan Organ Pencernaan, Kecernaan Ransum dan Kinerja Itik. Laporan Penelitian Kegiatan A3 Jurusan Nutrisi dan Makanan Ternak. Fakultas Peternakan Universitas Diponegoro, Semarang.
Zahra, A. A., D. Sunarti, & E. Suprijatna. 2012. Pengaruh pemberian pakan bebas pilih (Free choice feeding) terhadap performans produksi telur burung puyuh (Coturnix coturnix japonica). Animal Agricultural Journal. 1 : 1 – 11.
DOI:
http://dx.doi.org/10.24014/jupet.v17i2.7484
Refbacks
There are currently no refbacks.
Jurnal Peternakan 
has been accredited by Sinta 3 : Number 158/E/KPT/2021
Starting from Vol. 18 No. 1 Year 2021 to Vol. 22 No. 2 Year 2025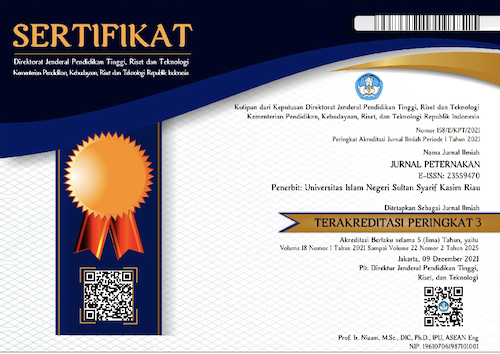 Jurnal Peternakan Indexed By:

Creation is distributed under the 
Creative Commons Attribution 4.0 International License
. 
View Mystats