KUALITAS MIKROBIOLOGIS SILASE DENGAN PENAMBAHAN BERBAGAI LEVEL KULIT BUAH DAN JERAMI JAGUNG (Zea mays L.) SERTA TEPUNG JAGUNG YANG BERBEDA
Abstract
Tujuan penelitian untuk  mengetahui pH, populasi serta  zona bening BAL terhadap E. coli   yang diisolasi dari silase kulit buah dan jerami jagung dengan penambahan tepung jagung yang berbeda. Penelitian ini dilakukan dengan menggunakan Rancangan Acak Lengkap (RAL) pola faktorial dengan 3x3 perlakuan 3 ulangan untuk setiap perlakuan.: A1  100% Kulit Buah Jagung + 0% Jerami Jagung, A2  50% Kulit Buah Jagung + 50% Jerami Jagung A3  0% Kulit Buah Jagung + 100% Jerami Jagung. Faktor B: Penambahan Tepung Jagung B1  0% Tanpa Tepung Jagung B2  5% Tepung Jagung B3  10% Tepung Jagung. Hasil penelitian menunjukkan bahwa tidak terdapat interaksi antara faktor jenis bahan yang berbeda dengan penambahan tepung jagung terhadap pH, jumlah populasi bakteri asam laktat, dan zona bening BAL terhadap E. Coli.  Kesimpulan perlakuan silase dengan penambahan jerami jagung 100% dapat dijadikan pakan ternak ruminansia.
References
Alakomi H.L., Skyttä E., Saarela M., Mattila S.T., Latva K.T., and Helander I.M. 2000. Lactic acid permeabilizes gram-negative bacteria by disrupting the outermembrane. Appl Environ Microbiol. 66 : 2001-2005.
Axelsson L. 1998. Lactic acid bacteria: Classification and physiology. Di dalam:Salminen S, Wright and A Von Wright, Editor. Lactic Acid Bacteria: Microbiology and functional aspects, 2nd Edition, Revised and Expanded. Marcel Dekker Inc. pp 1-72. New York.
Badan Pusat Statistika (BPS), 2015. Riau Dalam Angka. Badan Pusat Statistika Provinsi Riau. Pekanbaru.
Buckmaster, D. 1992. Bacterial Inoculants for Silage. http//www.ege.psu.edu/extension/ factsheets/i/I 111.pdf. Diakses pada tanggal 20 Desember 2016.
Cappucino, J.G., and N. Sherman. 2005. Microbiology a Laboratory Manual. 7 Th Edition. Pearson Education, Inc. San Francisco. USA
Chelule, P. K., Mokoena, M.P. dan Galeni, N. (2010). Advantages of Traditional Lactid Acid Bacteria Fermentation of Food in Africa. Current Research, Technology and Education Topics in Applied Microbiology and Mikrobial Biothecnology, 2: 1160-1167.
Cherney, DJR., Cherney JH, & Cox WJ. 2004. Fermentation Characteristics of Corn Forage Ensiled in Mini Silos. J. Dairy Sci. 87:4238-4246.
Chen, Y. & Z. G. Weinberg. 2008. Changes During Aerobic Exposure of Wheat Silages, Anim. Feed Sci and Tech. 154:76-82
Cintas, L.M., Rodriguez J.M., Fernandes M.F., Sletten K., Nes I.F., Hernandez P.E., and Holo H., 1995. Isolation and characterization of Pediocin L50, a new bacteriocin from Pediococus acidlactic with a broad inhibitory spectrum. Appl and Envir Microbiology, 61 (7) : 2643-2648.
Dwidjoseputro, D. 2005. Dasar -Dasar Mikrobiologi. Djambatan. Jakarta. hal.214
Gurning, F. N. 2013. Profil Jus Silase Jagung dan Kemampuannya dalam Menghambat Escherichia coli dan Salmonella sp. yang Diisolasi dari Feses Pedet Diare. Sekolah Pascasarjana. Laporan Penelitian. Institut Pertanian Bogor. Bogor.
Harahap, A. E. 2011. Kajian Daya Hambat Bakteri Asam Laktat Silase Ransum Komplit Berbasis Hasil Samping Jagung, Ubi Kayu dan Sawit. Jurnal Peternakan, 8 (2) : 44-48.
McDonald P, Henderson AR, Heron SJE. 1991. The Biochemistry of Silage. Second Edition. Aberystwyth (GB) : J Wiley.
Muck, R. E. 1990. Prediction of Lactic Acid Bacteria Numbers on Lucerne. Grass Forage Sci. 45:273-280.
Mugiawati, R. E. 2013. Kadar Air dan pH Silase Rumput Gajah pada Hari ke-21 dengan Penambahan Jenis Aditif dan Bakteri Asam Laktat. Jurnal Ternak Ilmiah, 1 (1): 201-207.
Nusio, L. G. 2005. Silage Production from Tropical Forages. In: Silage Production and Utilization. Park, R.S. and M.D. Stronge(Eds.). Wageningen Academic Publ., the Netherlands. Pp. 97-107.
Salminen, S., and Atte van W, 1998. Lactic Acid Bacteria Microbiology and Funcional aspect 2nd Ed. Marcel Dekker, Inc. New York. Basel.
Sibanda, S. R., M. Jingura, and J. H. Topps. 1997. The Effect of Level of Inclusion of the Legume Desmodium uncinatum and the use of Molasses or Ground Maize as Additives on the Chemical Composition of Grass-and Maize-Legume Silages. Anim feed Sci. Technol, 68:295-305.
Sudarmadji, S., Bambang H., dan Suhardi. 1997. Prosedur Analisa untuk Bahan Makanan dan Pertanian. Penerbit Angkasa. Bandung.
Umam, S., N. P. Indriani dan A. Budiman. 2014. Pengaruh Tingkat Penggunaan Tepung Jagung sebagai Aditif pada Silase Rumput Gajah (Pennisetum purpureum) terhadap Asam Laktat, NH3 dan pH, Jurnal. Fakultas Peternakan Universitas Padjajaran. Bandung.
Yang, C., M. J., S.C. Huang, T. Chang, Y.H. Cheng, and C.T. Chang. 2004. Fermentation Acids, Aerobic Fungal Growth, and intake of Napier Grass Ensiled with non Fiber Carbohidrates. Journal Dairy Sci, 87 : 630-636.
DOI:
http://dx.doi.org/10.24014/jupet.v16i1.6653
Refbacks
There are currently no refbacks.
Jurnal Peternakan 
has been accredited by Sinta 3 : Number 158/E/KPT/2021
Starting from Vol. 18 No. 1 Year 2021 to Vol. 22 No. 2 Year 2025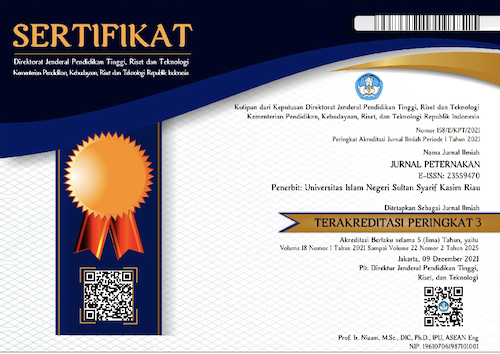 Jurnal Peternakan Indexed By:

Creation is distributed under the 
Creative Commons Attribution 4.0 International License
. 
View Mystats