KANDUNGAN FRAKSI SERAT TEPUNG SILASE AMPAS TEBU YANG DITAMBAH BIOMASA INDIGOFERA SEBAGAI PAKAN TERNAK
Abstract
Ampas tebu merupakan Iimbah pabrik gula yang banyak ditemukan dan dapat mencemari lingkungan apabila tidak dimanfaatkan. Saat ini belum banyak peternak menggunakan ampas tebu tersebut untuk bahan pakan ternak. Tujuan dari penelitian ini adalah untuk mengetahui mengetahui pengaruh proses ensilase dan penambahan biomas Indigofera terhadap fraksi serat tepung ampas tebu. Penelitian dilakukan secara eksperimen dengan menggunakan Rancangan Acak Lengkap (RAL). Berdasarkan hasil penelitian ini dapat ditarik kesimpulan bahwa penambahan biomasa Indigofera belum mampu menurunkan kandungan neutral detergent fibre (NDF), acid detergent fibre (ADF), dan Acid detergent lignin (ADL) tepung silase ampas tebu.
Keywords
Ampas Tebu; Biomasa Indigofera; Fraksi Serat
References
Ali, A., L. Abdullah, P. D. M. H. Karti, M. A. Chozin and D. A. Astuti. 2014. In Vitro Digestibility of Indigofera zollingeriana and Leucaena leucocephala Planted In Peatland. In: Proceeding of The 2nd Asian-Australiasian Dairy Goat Conference. Bogor. 25-27th April 2014: 179-181.
Anwar, S. 2008. Ampas tebu URL http://bioindustri.blogspot.com/2008/04/ampas- tebu.html., diakses pada tanggal 12 Desember 2015.
Badan Pusat Statistik (BPS). 2013. Riau dalam Angka. Pekanbaru: Badan Pusat Statistik Provinsi Riau.
Korison. 2009. Pengaruh Tingkat Penggunaan Ampas Tebu (Bagasse) Fermentasi Dalam Ransum Terhadap Kecernaan Bahan Kering Dan Bahan Organik Pada Domba Lokal Jantan. Fakultas Pertanian. Universitas Sebelas Maret. Surakarta
McDonald P., AR. Henderson., SJE. Herson. 1991. The Biochemistry of Silage. Second Edition, Marlow: Chalcombe.
National Research Council. 2001. Nutrient Requirement of Dairy Cattle. National Research Council. National Academies Press.
Qadrianti, D. 2014. Karakteristik Degradasi ADF dan NDF Tiga Jenis Pakan yang Disuplementasi Daun Gamal dalam Rumen Kambing Secara In Sacco. Skripsi. Fakultas Peternakan Universitas Hasanuddin Makassar.
Rasjid, S. 2012. The Great Ruminant Nutrisi, Pakan dan Manajemen Produksi. Cetakan Kedua. Brilian Internasional. Surabaya.
Rhamdani, Z. 2014. Kualitas Silase Daun Dan Pelepah Sawit Yang Ditambah Daun Singkong dan Indigofera. Skripsi.Fakultas Peternakan Institut Pertanian Bogor. Bogor.
Suparjo. 2008. Degradasi Komponen Lignoselulosa oleh Kapang Pelapuk Putih. Artikel. Laboratorium Makanan Ternak Fakultas Peternakan Universitas
Jambi. Jambi.
Suparjo Dan Nelson. 2011. Penentuan Lama Fermentasi Kulit Buah Kakao Dengan Phanerochaete Chrysosporium: Evaluasi Kualitas Nutrisi Secara Kimiawi. Laboratorium Makanan Ternak Fakultas Peternakan Universitas Jambi.Agrinak, 01 (1): 1-10.
Steel dan Torrie. 1991. Prinsip dan Prosedur Satistik. Jakarta. Gramedia Jakarta Utara. Yogyakarta.
Tillman, A.D., H. Hartadi., S. Reksohadiprodjo., S. Prawirokusumo dan S. Lebdosukoco. 1989. Ilmu Makanan Ternak Dasar. Gadjah Mada University Press. Yogyakarta.
Tillman, A. D., H. Hartadi, S. Reksohadiprojo, S. Prawirokusumo dan S. Lendosoekodjo. 1991. Ilmu Makanan Ternak Dasar. Cetakan Kedua Peternakan. Gajah Mada University Press. Yogyakarta.
Van Der Meer, J.M. And A.J.H. Van Es. 2001. Optimal Degradation of Lignocellulosic Feeds By Ruminants And InVitro Digestibility Tests. Proceedings of a Workshop, Degradation Of Lignocellulosics In Ruminant and Industrial Processes. March 17-20, 1986, Lelystad, Netherlands. Pp. 21-34.
Van Soest P. J.1994. Nutritional Ecology of The Ruminant. 2nd Ed. Comstock Publishing Associates a Division of Cornell University Press, Ithaca and London.
Witono, J. A. 2008. Produksi Furfural Dan Turunannya Alternatif Peningkatan Nilai Tambah Ampas Tebu Indonesia. http://www.chemistry. org/artikel_kimia/teknologi_tepat_guna/produksi_furfural_dan_turunannya_alternatif_peningkatan_nilai_tambah_ampas_tebu_indonesia/ Diakses tanggal 5 Mei 2015.
DOI:
http://dx.doi.org/10.24014/jupet.v16i1.6213
Refbacks
There are currently no refbacks.
Jurnal Peternakan 
has been accredited by Sinta 3 : Number 158/E/KPT/2021
Starting from Vol. 18 No. 1 Year 2021 to Vol. 22 No. 2 Year 2025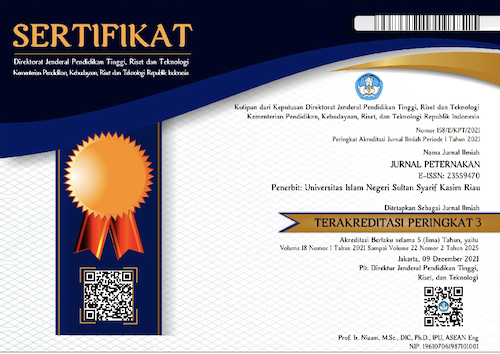 Jurnal Peternakan Indexed By:

Creation is distributed under the 
Creative Commons Attribution 4.0 International License
. 
View Mystats