PERFORMA KUANTITATIF SAPI PERANAKAN ONGOLE PASCA SAPIH DI SENTRA PETERNAKAN RAKYAT MAJU SEJAHTERA KABUPATEN LAMPUNG SELATAN
Abstract
ABSTRACT
The research was conducted with the aim to know the quantitative performance of post-wean PO cattle in SPR Maju Sejahtera Tanjungsari District, South Lampung Regency. The observation was conducted on PO cattle in each group member. The sample of observation was determined by purposive sampling. The survey method used in this study was conducted from October to November 2017. The observed variables were quantitative performance (body length, height, chest circumference, and body weight) PO cattle in age group P1 (> 12 - 24 months) and P2 (> 24-36 months). The result of the observation was analyzed by descriptive method. The results showed that the average quantitative performance of PO Cows age group P1 (12-24 months) ie body length 115,00 ± 7.45 cm, height 119.70 ± 8.75 cm, chest circumference 141.19 ± 5.62 cm, and body weight 177,66 ± 21,39 kg. Average quantitative performance PO cows age group P2 (24 - 36 months) ie body length 139.73 ± 4.33 cm, height 128.32 ± 7.19 cm, chest circumference 154.21 ± 10.43 cm, and body weight 258,16 ± 29,91 kg.
Keywords     
: PO cattle, Quantitative Performance, Sentra Peternakan Rakyat
DOI:
http://dx.doi.org/10.24014/jupet.v15i2.4898
Refbacks
There are currently no refbacks.
Jurnal Peternakan 
has been accredited by Sinta 3 : Number 158/E/KPT/2021
Starting from Vol. 18 No. 1 Year 2021 to Vol. 22 No. 2 Year 2025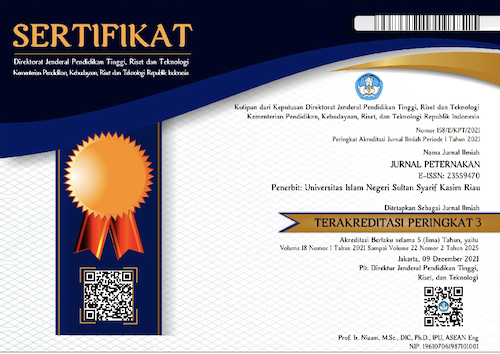 Jurnal Peternakan Indexed By:

Creation is distributed under the 
Creative Commons Attribution 4.0 International License
. 
View Mystats