PENGARUH PENGGANTIAN TEPUNG IKAN DENGAN TEPUNG SILASE UMBAH UDANC DALAM RANSUM AYAM PEDAGING TERHADAP RETENSI BAHAN KERING DAN PROTEIN KASAR
Abstract
This research is conducted in order wsee the effect ofthe substitution offish meal with the Silage ofshrimp waste on the retention ofdry matter and crude protein on broiUer. This research is conducted in the laboratory of Nutrition and Liveswck fred and experemintalJarm of the Faculty ofAnimal Husbandry Jambi University. This research used 100 DOC MB-202 breed. The design of the research is the complete ransom design with 5 treatments and 4 cycles. The treatments are the level of the use of shrimp waste silage, i.e. 0%, 2,5%, 5%, 7,5% and 10 %or to substitute fish meal 0%, 25%, 50%, 75% and 100%. The variabels observed were the compsumption, secretion and retention ofdry matter and creude protein. The result ofthe research show that the subtitution offish meal with silage ofshrimp waste does not show obvious effect (P>O,OS) on the retention ofdry matter and crude protein. Based on the result ofthe.research, it can 1:re concluded that the silage ofshrimp waste can substitute the use offish meal up w100 %.


Keywords
fish meal, shrimp waste, silage
DOI:
http://dx.doi.org/10.24014/jupet.v7i1.467
Refbacks
There are currently no refbacks.
Jurnal Peternakan 
has been accredited by Sinta 3 : Number 158/E/KPT/2021
Starting from Vol. 18 No. 1 Year 2021 to Vol. 22 No. 2 Year 2025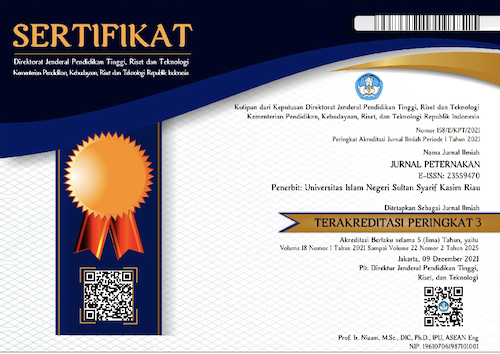 Jurnal Peternakan Indexed By:

Creation is distributed under the 
Creative Commons Attribution 4.0 International License
. 
View Mystats