PEMERIKSAAN RESIDU ANTIBIOTIK PADA HATI KERBAU DAN IKAN NILA DENGAN METODA DIFUSI AGAR
Abstract
This study was aimed to identify antibiotic residue on buffalo liver (Bubalus bubalis) dan nila fish (Oreochromis niioticus). Detection of antibiotic residu was used antibacterial assay by diffusion methode. The result indicated that some of samP/i:.s at concentration 25% contained antibiotic residue with inhibited growth rate Escherichia coli 12,3 nun.

Keywords
buffiilo liver, nila fish, diffusion method, antibiotic residue
DOI:
http://dx.doi.org/10.24014/jupet.v7i1.466
Refbacks
There are currently no refbacks.
Jurnal Peternakan 
has been accredited by Sinta 3 : Number 158/E/KPT/2021
Starting from Vol. 18 No. 1 Year 2021 to Vol. 22 No. 2 Year 2025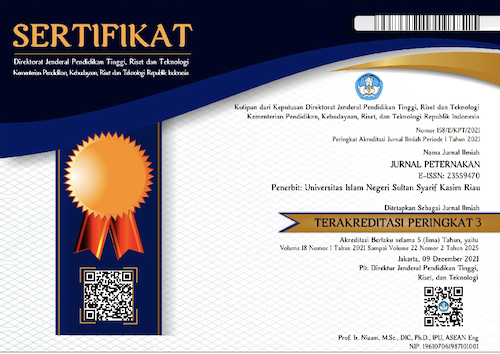 Jurnal Peternakan Indexed By:

Creation is distributed under the 
Creative Commons Attribution 4.0 International License
. 
View Mystats