PENGGUNAAN VITAMIN E DAN BHT DALAM PENGENCER SEMEN BEKU DOMBA
Abstract
A study about the use ofvitamin E and BHT in frozen ram senten extender has done. Tris citrate, lactose and skim milk as extenders and vitamin Eand BHT as antioxidants with ceitain doses were used in this experiment. The quality ofsemen such as motility, live sperm, intact plasma membrane and intact acrosom membrane were evaluated. The objectives ofthis study are to determine the best extender and antioxidant with certain doses in cryopreservation of ram semen. Based on" this study it was found that the skim milk extender (50.0 and 62.5% respectively) showed the best quality ofsperm motility and live sperm after thawing. The mean percentage ofintact plasma membrane and intact acrosome on skim milk extender also showed the best result
(58.3 and 61.0% respectiDely). The supplement of0.2 g vitamin Eshowed higher rate ofsperm motility, live sperm, intact plasma membrane and intact acrosome after thawing than the other treatments (51.9, 65.4, 61.3 and 64.2 percent respectiDely). It can be concluded that the supplementation of 0.2 g vitamin E using the skim milk extender gave the best quality in ram semen
cryapreservation.
Keywords
antioxidant, BHT, cryopreseroation, semen, vitamin E.
DOI:
http://dx.doi.org/10.24014/jupet.v7i1.464
Refbacks
There are currently no refbacks.
Jurnal Peternakan 
has been accredited by Sinta 3 : Number 158/E/KPT/2021
Starting from Vol. 18 No. 1 Year 2021 to Vol. 22 No. 2 Year 2025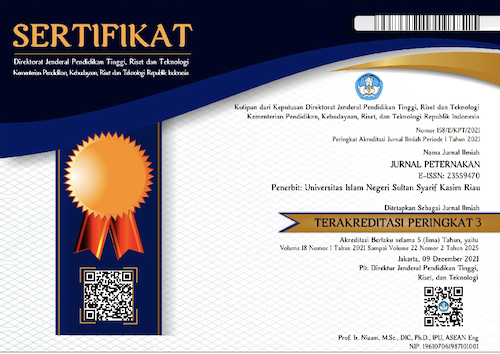 Jurnal Peternakan Indexed By:

Creation is distributed under the 
Creative Commons Attribution 4.0 International License
. 
View Mystats