PERFORMANS ITIK PEDAGING (LOKAL X PEI
Abstract
The study was conducted to determine the effect and maximum percentage of wa~supplementation in diet on the peformance of starter duct meaty (Lokal X Peking). Sixty day old duck (OOP) cross breed Lokal X Peking were used in completely randomized design with four treatments and three replications. They were fed . comercial ration (Bus 602-crumble) with four level of water sUPleJnenlation at 0 (A), 10 (B), 20 (q and 30% (0) of the total weight of fation. Supplementation of water in ration hom 10 to 30% were not significantly (P>O.05) different for all treatments for feed intake, daily gain, feedlgain (conversion) and water consumption of starter duct meaty (Lokal X Peking). Nevertheless, supplemented with10% of water in ration result the best performance of starter duct meaty (Lokal X Peking).
Keywords
DOD cross breed Lokal X Peking, Water supplementation, Peformance.
DOI:
http://dx.doi.org/10.24014/jupet.v6i2.380
Refbacks
There are currently no refbacks.
Jurnal Peternakan 
has been accredited by Sinta 3 : Number 158/E/KPT/2021
Starting from Vol. 18 No. 1 Year 2021 to Vol. 22 No. 2 Year 2025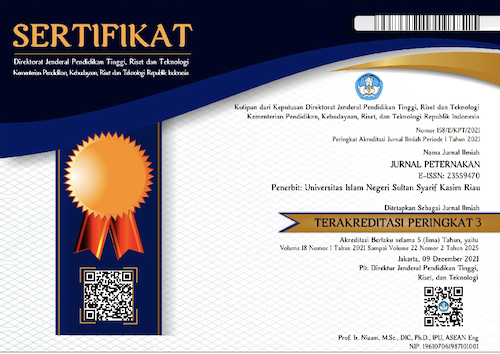 Jurnal Peternakan Indexed By:

Creation is distributed under the 
Creative Commons Attribution 4.0 International License
. 
View Mystats