PERANAN ANTIOKSIDAN DALAM PEMBEKUAN SEMEN
Abstract
Sperm plasma membrane was rich unsaturated fatty acid and vulnerable to peroxydative damage. Vulnerability sperm against lipid peroksidation could be caused by increased cold shock. The peroxydative processed alter the structure of. sperm, particularly in the membrane and akrosom, lost motility, metabolic changed and the rapid released intraseluler component. This condition could be prevented by adding antioxidants to semen extender, such as vitamin E and BHT. Vitamin E has been proven to protected sperm plasma membrane during freezing to thawing, while Butylated Hydroxytoluene (BHT) prevent the sperm plasma membrane damage caused cold shock and provide protection against changes due to freezing. Vitamin E and BHT prevent lipid peroksidation through its the hidrogen atom to the radical peroksil rapidly. It can be concluded that an antioxidant could be prevent damage the sperm plasma membrane was caused cold sho(:k and provide protection against changes due to freezing and to prevent lipid peroksidation.
Keywords
antioxidants, freezing semen, lipid peroksidation
DOI:
http://dx.doi.org/10.24014/jupet.v6i2.379
Refbacks
There are currently no refbacks.
Jurnal Peternakan 
has been accredited by Sinta 3 : Number 158/E/KPT/2021
Starting from Vol. 18 No. 1 Year 2021 to Vol. 22 No. 2 Year 2025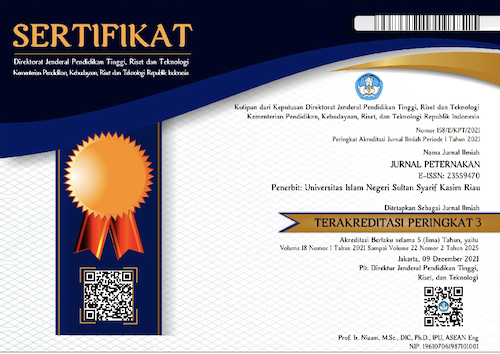 Jurnal Peternakan Indexed By:

Creation is distributed under the 
Creative Commons Attribution 4.0 International License
. 
View Mystats