SIFAT FISIK BAKSO DAGING SAPI DENGAN BAHAN PENGENYAL DAN LAMA PENYIMPANAN YANG BERBEDA
Abstract
Meatball is emulsion product which use additional ingredient to produce it The additional ingredient is to influence quality and also give taste and to influence the structUre produce characteristic of :meatball One of general additional ingredient is Sodium Tripolifosfat (STPP). STPP is anorganic which th~ untion to increase pH and tying the water, the water level decrease during process of cook, increase rubbey and easy to slice, stabilize colour and uniformity with un oxidation. The purpose of this research was to compare kind of rubbery effect (STPP and Karagenan) and keep long time toward characteristic of meatball in refrigerator. This research used . Random Project Complete (RPC) with pattern factoria12 x 4 which is 3 replication. The effect toword influence in this analysis with use variety investigate, if treatment have the obvious effect,the Polinomial test will be done. The result of this research showed the difference mark of meatball pH is very obvious (P<O.01), the use of STPP and karagenan to produce pH mark that is not difference obvious (P>O.05). The storage time will give a difference effect toword pH mark. Meatball pH mark is very difference obvious between before storage and after storage.
Keywords
meatball, sodium tripolipoBfot, wagenan
DOI:
http://dx.doi.org/10.24014/jupet.v6i2.375
Refbacks
There are currently no refbacks.
Jurnal Peternakan 
has been accredited by Sinta 3 : Number 158/E/KPT/2021
Starting from Vol. 18 No. 1 Year 2021 to Vol. 22 No. 2 Year 2025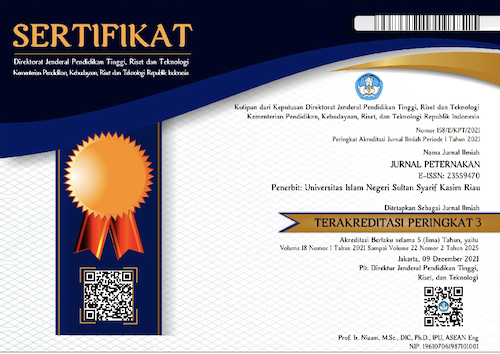 Jurnal Peternakan Indexed By:

Creation is distributed under the 
Creative Commons Attribution 4.0 International License
. 
View Mystats