PENGGUNAAN AIR TEBU YANG DIKOMBINASIKAN DENGAN KUNING TELUR SEBAGAI PENGENCER SEMEN SAPI BALI
Abstract
Research on utilization sugar cane water combined with egg yolk as Bali bull semen extenMr have been implemented. Research was conducted to determine the level ofutilization ofsugar cane water as semen exten~r combined with egg yolk on the quality ofBali bull semen. Variable observed in this study were the percentage ofmotility, the percentage of live count and intact plasma membrane of sperm. Based on the Complete Random Design (RAL) with $ix treatments and three replications. Treatment A = skim milk extender (control), B = 10% sugar cane water extender, C"" 20% sugar cane water extender, D =30% sugar cane water extender, E =40% sugar cane water extender and F = 50% sugar cane water extender. Differences between treatment tested with Duncan's Multiple Range Test (DMRT). Results of this research indicated that treatment 30% and 40% sugar cane water extender that could maintain the quality of the semen longger than the other treatment (96 hours), with the percentage ofsperm motility above 40% and the percentage oflive sperm above 50%. It can be concluded that : (1) a combination ofsugar cane water with the egg yolk could maintain ofsperm motility, sperm Viability and sperm intact pl~ma membrane stored at a temperature of SoC up to 96 hours, (2) sugar cane water could be used as natural extender with the concentration of30% to 40%.
Keywords
intact plasma memlmme, motility, sperm, sugllr cane water, viability
DOI:
http://dx.doi.org/10.24014/jupet.v6i2.371
Refbacks
There are currently no refbacks.
Jurnal Peternakan 
has been accredited by Sinta 3 : Number 158/E/KPT/2021
Starting from Vol. 18 No. 1 Year 2021 to Vol. 22 No. 2 Year 2025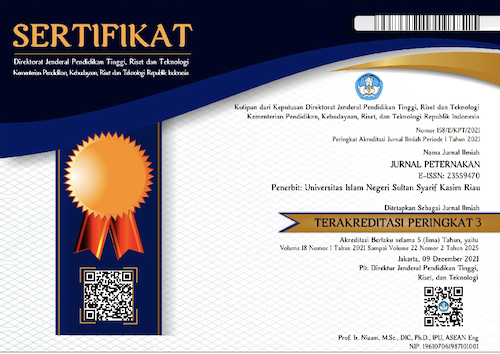 Jurnal Peternakan Indexed By:

Creation is distributed under the 
Creative Commons Attribution 4.0 International License
. 
View Mystats