PEMANFAATAN LIMBAH PERTANIAN SEBAGAI PAKAN RUMINANSIA PADA PETERNAK RAKYAT DI KECAMATAN RENGAT BARAT KABUPATEN INDRAGIRI HULU
Abstract
The objective of this study was to evaluate characteristics of feeding management and utilization of crop residues at the animal husbandry system in Pematang Reba, Indragiri Hulu. Data were obtained through a survey and analyzed descriptively. The results of experiment indicated that animal raising system was mostly carried out in a traditional way (90%), in which animals freely during the day and tigh at night (80%), kept their animals only at night/semi intensive (7.5%) and freely during the day and kept their animal in cage at night (2.5%). The number of farmers who kept their animal in cage (intensive) was lower, i.e 10%. The percentage of farmers who utilized crop residues as feeding source was still low i.e 20%. There are not the farmers (0%) who knew about feeding technology and applied those technologies.


Keywords
crop residues, freding rechnology
DOI:
http://dx.doi.org/10.24014/jupet.v5i1.282
Refbacks
There are currently no refbacks.
Jurnal Peternakan 
has been accredited by Sinta 3 : Number 158/E/KPT/2021
Starting from Vol. 18 No. 1 Year 2021 to Vol. 22 No. 2 Year 2025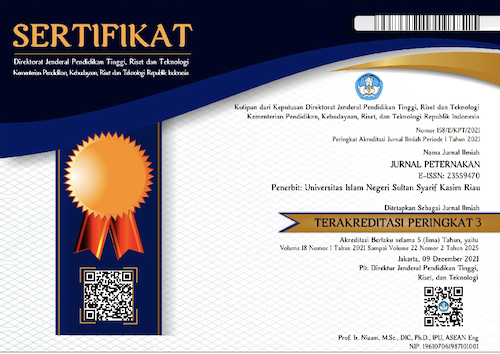 Jurnal Peternakan Indexed By:

Creation is distributed under the 
Creative Commons Attribution 4.0 International License
. 
View Mystats