KUALITAS DAGING SAPI DENGAN KEMASAN PLASTIK PE (Polyethylen) dan PLASTIK PP (Polypropylen) DI PASAR ARENGKA KOTA PEKANBARU
Abstract
The objective of this study was to know the influence of two kinds of plastic packing, i.e. Polyethylen (PE) and Polypropylen (PP), for total plate count, moisture, crude protein, pH I;Uld cooking loss of the fresh meat. The experiment was designed using completely randomized block design with three treatments of packaging (Le. unpacking as control, PE plastic packing and PP plastic packing) and three blocks of sampling day. The result showed that the packaging using PE and PP plastics decreased bacteria contamination, moisture, pH, cooking loss and maintained of crude protein of the fresh meat. The PP plastic better than the PE plastic in maintain the
meat quality.


Keywords
Fresh meat, Packing, Polyethylen, Polyprapylen,
DOI:
http://dx.doi.org/10.24014/jupet.v5i1.279
Refbacks
There are currently no refbacks.
Jurnal Peternakan 
has been accredited by Sinta 3 : Number 158/E/KPT/2021
Starting from Vol. 18 No. 1 Year 2021 to Vol. 22 No. 2 Year 2025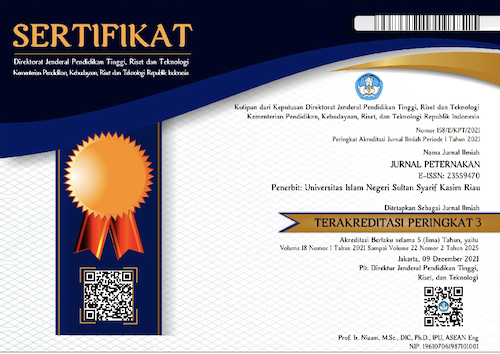 Jurnal Peternakan Indexed By:

Creation is distributed under the 
Creative Commons Attribution 4.0 International License
. 
View Mystats